In rare ceasefire hundreds evacuate a Damascus suburb
Beirut, Lebanon – Hundreds of people were allowed to leave a besieged, rebel-held suburb of Damascus on Sunday in a rare cease-fire, according to the government and its opponents. But aid workers said they were still unable to enter the town, Moadamyeh, which international organizations have been trying to reach for months and where six people have reportedly died of malnutrition.
Further underscoring the challenges of providing humanitarian aid in Syria, where millions are displaced and needy, seven aid workers were abducted near the town of Saraqeb in the northern province of Idlib on Saturday.
Six were staff members at the International Committee of the Red Cross, aid officials said, and one was a volunteer at the Red Cross' local affiliate, the Syrian Arab Red Crescent. Officials declined to give the victims' nationalities.
Kidnapping is a growing problem in rebel-held areas of northern Syria, where there is infighting among rebel factions and where jihadist organizations hostile to Western aid groups and Syrian civil activists are on the rise, along with criminal gangs seeking to profit from ransom.
The danger posed by both opposition and government forces, and the difficulty of co-ordinating cease-fires, has severely hampered international and local efforts to provide food and medical care to civilians. Though United Nations and Red Crescent convoys do reach many far-flung conflict zones across the country, some areas have remained under siege for months, including government-held parts of Aleppo and rebel-held Damascus suburbs like Moadamyeh.
In a rare success, hundreds of women and children left Moadamyeh on Sunday, crossing into government-held territory and heading to shelters, according to the official Syrian news agency, SANA, and the Red Crescent. At least seven times in the past several months, the United Nations and the Red Crescent have received permission to enter the area, only to have it rescinded for what officials say are security reasons.
Government opponents say the army's blockade of the area and its regular shellings and bombings are starving civilians, while Syrian officials say that armed groups, which they call terrorists, are holding civilians hostage.
Khaled Erksoussi, the Red Crescent's operations director, said that 1,500 civilians were evacuated from Moadamyeh on Sunday, adding that they were "in a state of major fatigue and were very scared," according to Agence France-Presse. Red Crescent workers were unable to enter to treat the sick, who were not evacuated, Erksoussi said.
Syria's social affairs minister, Kinda Shmat, said that 3,000 people had left the town as the government worked "to protect citizens from terrorists," according to SANA. The discrepancy between her and Erksoussi's figures was not immediately explained. Video of the event showed women, children and people on stretchers being greeted by soldiers and Shmat.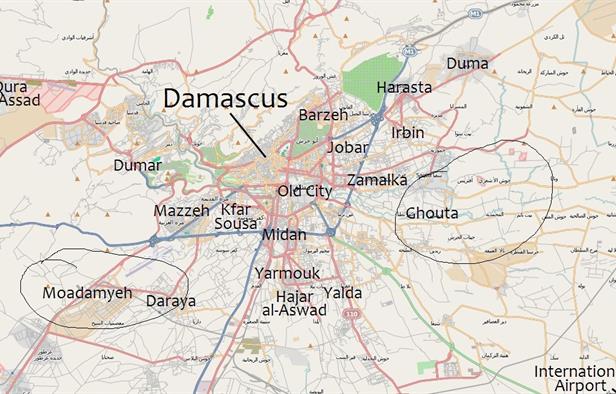 Moadamyeh was one of the suburbs hit by a chemical weapons attack in August for which U.S. officials have blamed the Syrian government.
On Sunday night, the state news media reported two explosions, said to be car bombs, outside the headquarters of Syrian state television in Damascus. The attack took place in Umayyad Square, a central traffic roundabout that is home to an opera house and a military headquarters and is blocks from the Four Seasons Hotel, where international chemical weapons inspectors are staying as they work to dismantle Syria's toxic arsenal.
The explosions came a day after an insurgent shell killed an 8-year-old girl near a school in Damascus and several children were killed by government strikes in the suburbs of the capital. Violence also continued elsewhere, with fighting in the northern province of Aleppo and government troops attempting to push further into rebel-held areas south of Damascus after retaking two towns there Friday.
NY Times