Geagea: Hezbollah using oil issue to justify its illlegal arms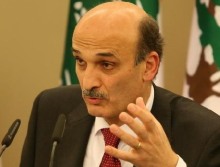 Lebanese Forces leader Samir Geagea said that the Shiite militant group Hezbollah was seeking to use Lebanon's oil resources as a pretext for further enmity with Israel.
"We are trying to benefit the Lebanese and further generations from the oil resources, but others want to turn it into another front with Israel," Geagea said in remarks published by As-Safir newspaper on Thursday.
"The oil portfolio is being used to give a legal justification to the existence of illegal weapons," the LF leader added in reference to Hezbollah.
Geagea also objected to offering all maritime "blocks" for bidding, saying that avoiding that would prevent a clash with Israel over the issue especially regarding the fields in contentious maritime locations.
"Israel will need more than a year to begin extracting oil, and this is a period that would allow Lebanon to prove its maritime border's right."
In April, a group of 46 firms qualified to bid on a first round of licenses to explore Lebanese offshore gas fields, with 12 qualified to bid as operators.
Caretaker Energy Minister Gebran Bassil has called on the cabinet—which resigned in March—and the parliament to hold extraordinary sessions to approve the oil sector decrees.
Bassil had originally planned to conduct Lebanon's first round of licensing for developing its offshore resources in May, however the cabinet's resignation in March put the process on hold.
A government must still pass two decrees – laying out the model for the Production Sharing Agreement that companies will eventually sign and officially delineating the blocks available for bidding – before bidding and negotiations can begin.
Lebanon has been slow to exploit its maritime resources compared with other eastern Mediterranean countries. Israel, Cyprus and Turkey are all more advanced in their drilling efforts for oil and gas.
NOW