Hezbollah denies receiving chemical weapons from Syria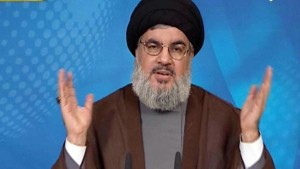 Hezbollah leader Sayyed Hassan Nasrallah denied on Monday that his  group received chemical weapons from Syria.
"This accusation is truly laughable," he said in a televised speech, referring to charges that Syria's government had transferred chemical weapons to the group,according to Reuters news Agency.
The charges had "dangerous consequences for Lebanon," he said.
"We decisively and conclusively deny these accusations which have absolutely no basis in truth," he was quoted as saying by Reuters.
The Syrian National Coalition accused Syrian President Bashar al-Assad's government of transferring chemical weapons to Hezbollah to escape inspection.
Last June the opposition Free Syrian Army (FSA) reported that chemical weapons were used on Wednesday in a Damascus town by Hezbollah fighters and forces loyal to President Bashar al-Assad.
Hezbollah's fighters are fighting in Syria alongside Assad's forces.
Under a U.S.-Russian deal Syria will give up its chemical weapons, after Western powers accused Assad's government of carrying out a chemical attack that killed a thousand of people in a Damascus suburb last month.
Al Arabiya
Photo: An image grab from Hezbollah's al-Manar TV shows Hassan Nasrallah, the head of Lebanon's militant Shiite Muslim movement Hezbollah, giving a televised address from an undisclosed location on September 23, 2013 in Lebanon.