Bahrain opposition to boycott national dialogue talks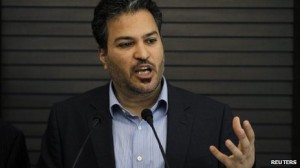 Bahrain's main Shia opposition groups are suspending their participation in talks with the government in protest at the arrest of a Wefaq party leader.
The detention of Khalil Marzook ( pictured) on terrorism charges on Monday showed the Sunni-led authorities' contempt for the political process, a statement said.
National dialogue talks begin in February in an effort to end the unrest that has plagued Bahrain since 2011.
Earlier, officials said a policeman had been killed by a bomb explosion.
Amer Abdul Khalid died in hospital of the wounds he sustained as a result of Tuesday's blast in al-Dair, a predominantly Shia village on the island of Muharraq, north-east of the capital Manama.
The interior ministry said four other officers had been hurt in the incident, which occurred while they were confronting a "terrorist group".
The policeman is the third to be killed this year, as activists have stepped up their campaign demanding more rights and an end to discrimination against the majority Shia community by the Sunni royal family.
The government denies any discrimination and has accused Iran of fomenting unrest by Bahraini Shia, a charge Tehran has denied.
At least 80 people have been killed in the unrest since 2011, according to the International Federation for Human Rights.
'Recklessness'
On Wednesday, the five groups in the National Democratic Opposition Parties issued a joint statement saying they had "decided to suspend their participation in the national dialogue", which is seeking to break the bitter stalemate with the government.
"This decision will be continuously revised," they added.
Earlier, the authorities announced the detention of Mr Marzook, Wefaq's assistant secretary general and a former deputy speaker of parliament, for 30 days on charges of inciting and advocating terrorism, and using his leadership position to incite crimes,
The head of public prosecution, Nayef Youssef, alleged that Mr Marzook was "affiliated with the terrorist organisation known as '14 February Coalition'", a number of whose leaders and members are on trial.
He also claimed that Mr Marzook had spoken at many forums "inciting and promoting terrorist acts, advocating principles which incite such acts, supporting violence committed by the terrorist coalition, and legally justifying criminal activities".
At a speech at Saar district, west of the capital Manama, on 6 September, Mr Marzook raised the flag of the 14 February Coalition, he added.
The 14 February Coalition is a network of opposition activists that uses social media to organise anti-government protests.
On Tuesday, Wefaq denounced the government's "recklessness" in arresting Mr Marzook and accused it of targeting political opponents as part of an effort to heighten the unrest in the Gulf island state.
BBC