Nasrin Sotoudeh 'among freed Iran political prisoners'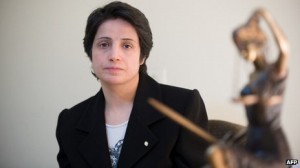 Iran is reported to have freed at least 11 political prisoners, including noted human rights lawyer Nasrin Sotoudeh.
The eight women and three men are said to also include the reformist politician Mohsen Aminzadeh.
Ms Sotoudeh was arrested in 2010 and jailed for six years on charges of acting against national security.
The release of the political prisoners comes just days before Iran's new President Hassan Rouhani visits New York for the UN General Assembly.
In his election campaign, he promised to free political prisoners.
Ms Sotoudeh's husband, Reza Khandan, told Reuters news agency that she had been dropped off at their home by prison officials on Wednesday evening.
"It is not a temporary release, it's freedom," he said by phone from Tehran.
"They put her in a car and dropped her off at the house."
There has been no official comment on Ms Sotoudeh's release or on the other prisoners reported to have been freed.
Ms Sotoudeh – winner of the European Parliament's 2012 Sakharov Prize for Freedom of Thought – is a well-respected and outspoken human rights lawyer known for taking on high-profile political cases.
During her captivity in Tehran's Evin jail, she went on hunger strike to protest against her prison conditions as well as sanctions imposed on her family.
Mohsen Aminzadeh, a former deputy foreign minister under President Mohammed Khatami, was jailed in 2010 for organising protests and spreading propaganda against the system.
He was a prominent supporter of the defeated presidential candidate Mir Hossein Mousavi.
Analysts say that since President Rouhani's election, there have been growing calls for the release of political prisoners.
According to an investigation by the UK's Guardian newspaper, there are close to 800 political prisoners and prisoners of conscience in Iran.
They include journalists, lawyers, human rights activists, bloggers, feminists, Christian priests, Sunni clerics, the entire leadership of the Bahai faith in Iran, and others.
BBC