Syria didn't confirm it will hand over its chemical weapons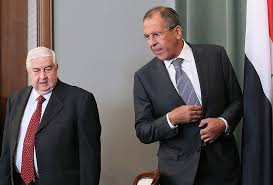 Syria said it welcomed a Russian proposal that it hand over chemical weapons to be destroyed, without saying whether it would comply, as a suggestion by U.S. Secretary of State John Kerry gained traction.
Mr. Kerry said Syrian President Bashar al-Assad's government could prevent U.S. military action in response to what the U.S. said was a chemical-weapons attack on Aug. 21 by handing its chemical weapons to the international community. Syria has denied using chemical weapons and blamed Syrian rebels for the attack.
On Monday, Foreign Minister Sergei Lavrov of Russia, one of the strongest supporters of the Assad regime, urged Syria to comply with Mr. Kerry's call.
"We are calling on the Syrian leadership not just to agree to put chemical-weapons stores under international control, but also to their subsequent destruction, as well as fully fledged accession to the Chemical Weapons Convention," Mr. Lavrov said.
Syrian Foreign Minister Walid Moallem, in comments to reporters in Moscow, didn't provide any specifics, other than to say that Syria welcomed the Russian proposal.
"The Syrian Arab republic welcomes the Russian initiative, motivated by the concerns of the Russian leadership for the lives of our citizens and the security of our country," Mr. Moallem said, according to Russia's Interfax news agency.
Mr. Moallem didn't provide any further details of whether Damascus supported both turning over its chemical weapons to international monitors and ultimately destroying them, as Mr. Lavrov proposed.
Mr. Moallem didn't address Russia's call for Damascus to accede to the global convention banning chemical weapons.
He said Syria's position on the Russian proposal was motivated "out of our faith in the wisdom of the Russian leadership, which is striving to prevent American aggression against our people."
U.K. Prime Minister David Cameron said Syria should be encouraged to put its chemical weapons beyond use, but added that the international community must be wary in case it uses any such offers as a diversionary tactic.
United Nations Secretary-General Ban Ki-moon added his support to the proposal, and said he is drawing up plans for Syria's chemical weapons to be moved to a secure location within the country where they could be eliminated under U.N. supervision.
Mr. Ban, addressing a news conference in New York on Monday, said he was still waiting for the report of U.N. chemical weapons inspectors who took samples from the site of the Aug. 21 incident.
The secretary-general said there was "significant speculation" about the alleged attack, apparently disregarding U.S. assertions that the Syrian government was responsible for an Aug. 21 chemical-weapons attack that killed over 1,400 people.
But he urged a coordinated response if the Assad regime is found culpable. Should the U.N. inspectors "confirm the use of chemical weapons, then this would surely be something around which the Security Council could unite in response—and indeed something that should merit universal condemnation," Mr. Ban said.
Russia, a permanent member, has so far blocked any push at the Security Council for a resolution against the Assad government.
The Russian proposals were a rare sign of apparent agreement between Moscow and Washington over Syria.
Russia has supported Mr. Assad in the country's civil war and has opposed U.S. plans for a strike against Mr. Assad's forces. On Friday, Russian President Vladimir Putin said the chemical attack was carried out by the Syrian opposition to provoke international military intervention.
President Barack Obama has mounted an intensive campaign to convince Congress and the American public that a military strike on Syria is necessary. Mr. Kerry, who has been traveling through Europe in recent days on a diplomatic push, said earlier on Monday in London that it was clear the Syrian government was unwilling to relinquish control of its chemical weapons.
Mr. Kerry, at a news conference in London on Monday, said the Assad regime has a "huge stock" of chemical weapons, and the movement and use of them was tightly controlled by Mr. Assad himself, his brother, and a general whom he didn't name.
Asked whether there was anything the Syrian government could do to stop U.S. strikes, Mr. Kerry said, "Sure, he could turn over every single bit of his chemical weapons to the international community in the next week … without delay and allow the full and total accounting for that, but he isn't about to do it and it can't be done, obviously."
Mr. Kerry said he understood the legacy of the Iraq conflict, but that the U.S. administration wasn't "going to war" in Syria.
"We will be able to hold Bashar Assad accountable without engaging in troops on the ground or any other prolonged kind of effort in a very limited, very targeted, very short-term effort that degrades his capacity to deliver chemical weapons without assuming responsibility for Syria's civil war," he said.
A broad international coalition is central to the U.S. administration's efforts to persuade American lawmakers that military action has international support before they vote on the issue this week.
In Moscow on Monday, Russia's Mr. Lavrov said—after talks with his Syrian counterpart—that military strikes on Syria could cause an "outburst of terrorism" in the region and trigger a new wave of refugees.
Mr. Kerry said the risk of not acting in Syria was greater than the risk of acting. "I don't believe we can shy from this moment," he said.
WSJ