Clinton: Syria chemical arms surrender would be an "important step"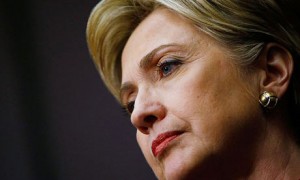 Hillary Rodham Clinton said on Monday that Syria surrendering chemical stockpiles would be an "important step" to averting a potential U.S. military strike but can't be an "excuse for delay or obstruction" by the Bashar Assad regime.
The comments from the former secretary of State came at a White House forum on combating wildlife trafficking, one of the charitable causes she is pursuing at the Bill, Hillary and Chelsea Clinton Foundation. She was joined at the forum by her daughter, Chelsea.
Clinton's remarks also came after Secretary of State John Kerry suggested earlier on Monday that if Assad turned "over every single bit of his chemical weapons to the international community in the next week" he could avoid military action. Russia also proposed on Monday that Damascus place its chemical weapons under international monitors to head off a confrontation.
"If the regime immediately surrenders it stockpiles to international control, as was suggested by Secretary Kerry and the Russians, that would be an important step," Clinton said. "It is important to note that this discussion that has taken hold today about potential international control of Syria's stockpiles only could take place in the context of a credible military threat by the United States to keep pressure on the Syrian government, as well those supporting Syria, like Russia."
"I will continue to support [President Obama's] efforts and I hope that the Congress will as well," added Clinton, who said she met with Obama at the White House earlier on Monday. "The Assad regime's inhumane use of weapons of mass destruction…demands a strong response from the international community led by the United States."
A Clinton aide last week issued a statement supporting Obama's decision to seek congressional approval for a limited military strike in response to the Assad regime's alleged use of chemical weapons on Aug. 21 on the outskirts of Damascus. But Clinton had yet to personally speak out on Obama's call for action against the regime.
The public endorsement by Clinton, who is considered a front-runner for the 2016 race for the White House, comes at a critical point for Obama. The president is facing opposition from liberal Democrats and libertarian-leaning Republicans to military action. And polls, including a USA TODAY/Pew Research Center poll published on Monday, show Americans are overwhelmingly opposed to military action.
Obama and aides have tried mightily to swing public and congressional opinion. On Sunday night, Obama over an Italian dinner–hosted by Vice President Biden–made his case to six Republican senators. He is also expected to travel to Capitol Hill on Tuesday to make his case to Senate Democrats to rally behind his call. The president was also conducting six television interviews on Monday to talk about Syria.
POLL: Opposition to military action surges
ASSAD: U.S. attack will bring repercussions
On Tuesday,Obama is scheduled to address the nation from the Oval Office to make his case to the American public for a military strike against the Syrian regime.
Obama repeatedly has asserted he has the authority to order the airstrikes even though he decided to seek congressional authorization first. But those surveyed say by 2-1 that Congress should have the final authority for deciding whether military strikes should be launched.
The president has declined to say whether he will carry out a strike against Syria if Congress rejects his request for congressional authorization.
USA Today