Pro-Syria protesters rally against a possible US strike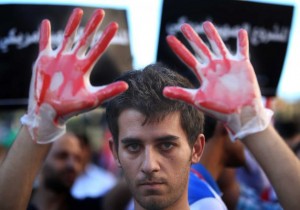 Several pro-Syrian regime activists rallied on Saturday in front of the U.S. embassy in Awkar , near the capital Beirut to protest against the expected U.S. military intervention in Syria.
This comes after the European Union foreign ministers said on Saturday there appeared to be "strong evidence". that Syria's government was behind the alleged use of chemical weapons against rebels and urged a "clear and strong" response.
The EU statement, the bloc's strongest since the alleged chemical attack, could prove a boost for the Obama administration as it seeks to show the U.S. has international backing for action against the regime of Bashar al-Assad.
A pro-Syrian regime activist Ali Taleb told the protesters : "Syria does not need protection, it has safeguarded Arabs for a long time. The country wants Arabs' support instead of these nations calling for foreign intervention to destroy it."
The Gulf Cooperation Council ( GCC) urged the international community on Saturday to intervene immediately to "rescue" the Syrian people from their government's "oppression."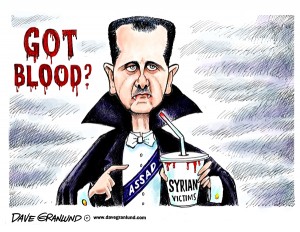 "The genocide, and grave human rights violations, faced by the Syrian people necessitate an immediate intervention by the international community," GCC secretary-general Abdullatif Al Zayani said.
The Arab nations have offered to help pay for any US military intervention in Syria, Secretary of State John Kerry told lawmakers last Wednesday as he sought support for missile strikes.
"With respect to Arab countries offering to bear the cost and to assist, the answer is profoundly yes, they have. That offer is on the table," Kerry said as he appeared before a House of Representatives panel.
The offer was "quite significant," Kerry said.
On Friday, the US State Department ordered its "non-emergency personnel and family members" to leave the US Embassy in Lebanon due to security threats.
The US State Department also urged U.S. citizens to avoid all travel to Lebanon "because of current safety and security concerns," noting that "U.S. citizens living and working in Lebanon should understand that they accept risks in remaining and should carefully consider those risks."
Regional tension has increased over the potential of a US-led strike against the Syrian regime in retaliation to an August 21 chemical attack outside Damascus.
Iran and Hezbollah have all warned against conducting the strike on Syria.
US Military officials have been trying to predict the range of possible responses from Syria, Iran and their allies. U.S. officials said they are on alert for Iran's fleet of small, fast boats in the Persian Gulf, where American warships are positioned. U.S. officials also fear Hezbollah could attack the U.S. Embassy in Lebanon.
Hundreds of Hezbollah fighters have been killed in Syria while fighting alongside the forces loyal to President Assad  against the mostly Sunni rebels who are seeking to topple the 40 year old dictatorship.
Photo: A Lebanese pro-Syrian regime supporter, his hands painted in red to symbolize blood, attends a demonstration against a possible military strike in Syria, near the U.S. Embassy in Aukar, east of Beirut, Lebanon. The prospect of a U.S.-led strike against Syria has raised concerns of potential retaliation from the Assad regime or its allies. The State Department ordered nonessential U.S. diplomats to leave Lebanon over security concerns and urged private American citizens to depart as well. Photo: Reuters /Hussein Malla