Russia's Putin warns US over Syria action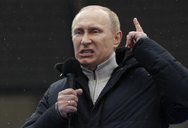 Russian President Vladimir Putin has warned America and its allies against taking one-sided action in Syria.
He said any military strikes without UN approval would be "an aggression".
US President Barack Obama has called for punitive action in response to an alleged chemical weapons attack.
Mr Putin said Russia did not rule out supporting a UN Security Council resolution authorising force, if it was proved "beyond doubt" that the Syrian government used chemical weapons.
On Tuesday evening, members of the Senate Foreign Relations Committee agreed on a draft resolution backing the use of US military force.
The measure, to be voted on next week, sets a time limit of 60 days on any operation.
According to the draft resolution, the operation would be restricted to a "limited and tailored use of the United States Armed Forces against Syria", and ban the use of any ground forces.
The US has put the death toll from the alleged chemical attack on the outskirts of Damascus on 21 August at 1,429, though other countries and organisations have given lower figures.
Convincing evidence
Mr Putin was speaking ahead of the G20 summit in St Petersburg, which opens on Thursday and is supposed to concentrate on the global economy, but now looks likely to be dominated by the Syrian crisis.
In a wide-ranging interview with The Associated Press and Russia's state Channel 1 television, Mr Putin said it was "ludicrous" that Syrian President Bashar al-Assad, an ally of Russia, would use chemical weapons at a time when it was gaining ground against the rebels.
"If there is evidence that chemical weapons were used, and by the regular army… then this evidence must be presented to the UN Security Council. And it must be convincing," Mr Putin said.
But he added that Russia would "be ready to act in the most decisive and serious way" if there was clear proof of what weapons were used and who used them.
The BBC's Daniel Sandford in Moscow said that while that, of course, is a high bar, it has at least given him a little wriggle room.
Mr Putin said it was "too early" to talk about what Russia would do if America took action without a UN resolution.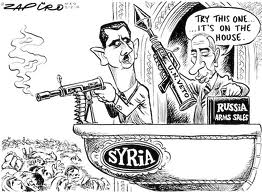 He confirmed that Russia had currently suspended delivering further components of S-300 air defence missile systems to Syria, but added that "if we see steps are taken that violate the existing international norms, we shall think how we should act in the future, in particular regarding supplies of such sensitive weapons to certain regions of the world."
According to our correspondent, this could be seen as a veiled threat to supply S-300s to Iran.
'Not the time to be spectators'
The US Congress is expected to vote next week on whether to back President Obama's push for military strikes in Syria.
Ahead of next week's vote in Congress on whether to back military strikes in Syria, Secretary of State John Kerry appeared before the Senate Foreign Relations Committee on Tuesday to promote the Obama administration's case.
He said there was evidence "beyond any reasonable doubt" that the forces of President Bashar al-Assad regime prepared for a chemical weapons attack near Damascus on 21 August.
He told the senators that the president was not asking America to go to war. "He is asking only for the power to make clear, to make certain, that the United States means what we say."
"This is not the time for armchair isolationism," Mr Kerry added . "This is not the time to be spectators to slaughter."
US Defence Secretary Chuck Hagel and the top US military officer, Gen Martin Dempsey, also appeared before the Senate panel.
Mr Hagel said that "the word of the United States must mean something".
The Republican Speaker of the House of Representatives, John Boehner, also endorsed President Obama's call for military action.
So too did Henry Kissinger, who was the US Secretary of State from 1973 to 1977 and a recipient of the Nobel Peace Prize.
Dr Kissinger told the BBC that doing nothing would be "catastrophic", and "would show a degree of dysfunction in our political system that would be very unfortunate".
But the BBC's Jane O'Brien, in Washington, says Mr Obama still faces a tough task winning the support of the American people.
The latest opinion poll shows public opposition to involvement in the Syrian conflict is growing, with six out of 10 Americans against missile strikes.
Refugee crisis
France has strongly backed the US plan for military action, and the French parliament is due to debate the issue on Wednesday.
President Francois Hollande said on Tuesday: "When a chemical massacre takes place, when the world is informed of it, when the evidence is delivered, when the guilty parties are known, then there must be an answer."
UK Prime Minister David Cameron had also backed Mr Obama, but the British parliament rejected a resolution on military action.
More than 100,000 people are thought to have died since the uprising against President Assad began in March 2011.
The UN refugee agency says more than two million Syrians were now registered as refugees, and a further 4.25 million have been displaced within Syria.
The UN says this is the worst refugee crisis for 20 years, with numbers not seen since the 1994 genocide in Rwanda.
The foreign ministers of four of Syria's neighbours – Lebanon, Jordan, Turkey and Iraq – are meeting at the United Nations in Geneva on Wednesday to discuss the issue.
The ministers hope to persuade other richer countries to offer more support.
BBC