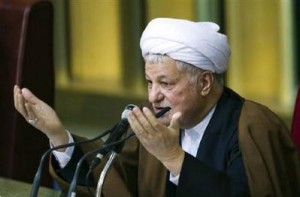 Comments by a former Iranian president and pillar of the country's political establishment have shone a light on possible disagreements within the country's elite over its support for President Bashar al-Assad's regime in Syria.
In a hotly disputed statement posted on the internet, Akbar Hashemi Rafsanjani, Iran's former president, accused Mr Assad's government of using chemical weapons against the Syrian people in what analysts saw as a warning to the government to rethink its support for its main Arab ally.
"God bless the people of Syria . . . they were subjected to chemical weapons by their own government and now they have to expect a foreign invasion," Mr Rafsanjani, who heads the powerful Expediency Council, said last week at an event in the northern province of Mazandaran.
The remarks, quoted by the semi-official ILNA news agency, sparked an uproar in Iran, where officials have accused Mr Assad's opponents of being behind the attack. They were quickly scrubbed from the news website. Later, Marzieh Afkham, Iran's foreign ministry spokeswoman, denied the comments, saying they were "distorted".
But an audio recording that appeared on Tuesday confirmed Mr Rafsanjani's accusation that the Assad regime had launched chemical attacks against the Syrian people, a view shared by the US, Britain and France.
Mr Rafsanjani's speech also referred to thousands of Syrians who had been thrown into prison, painting a dire picture of human rights under the Assad regime and reflecting what some say is widespread Iranian sympathy for the Syrian uprising against Mr Assad.
"Mr Rafsanjani has said what millions of Iranians believe in their heart but they either do not dare to express it or they face censorship [by Iran's regime]," said Sadegh Zibakalam, a reform-minded political scientist.
"This is that there is no difference between this repressive regime [Assad] and that of [former president] Hosni Mubarak in Egypt, [the late dictator] Muammer Gaddafi in Libya and the Bahraini and Saudi Arabian regimes."
Despite Mr Rafsanjani's comments, many Iranians remain sceptical that Mr Assad was responsible for the alleged chemical attack in eastern Damascus on August 21 and support the official view that armed opponents of the Syrian regime, including the Saudi and western-backed rebels, were behind it.
But Mr Zibakalam said "not only millions of Iranians" but also officials such as newly elected President Hassan Rouhani and his foreign minister Mohammad-Javad Zarif "welcomed Mr Hashemi's remarks inside their hearts".
Iranians suffered immensely under Saddam Hussein's chemical weapons attacks in the 1980s and continue to be traumatised by the inaction of the international community in their aftermath.
Implicit in Mr Rafsanjani's comments, analysts suggest, was the warning that Mr Rouhani's new government should no longer support the Assad regime unconditionally and should reconsider support that is said to include financial help and military advice as well as the military support of Iran's staunch ally in the Levant, Hizbollah.
Though there has been little sign of change in Iran's support for Syria and the Assad regime is still seen by Tehran as a critical link in its effort to increase its influence in the Arab world, Mr Rouhani's government is keen to break the deadlock in talks with the six big powers over the nuclear programme, and appears to have toned down its rhetoric on Syria and avoided direct involvement in the conflict.
Despite some bellicose rhetoric by military officials, most remarks on Syria appear cautious and carefully calibrated, warning, for example, that a US attack on Syria would further damage its interests in the region.
"Iran has no longer put all its eggs in Assad's basket," said a reform-minded university professor of international relations who asked not to be named. "It is in the country's best interest for the new government to find an alternative to him."
Financial Times