David Frost dies at 74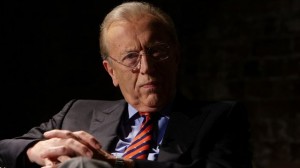 Veteran broadcaster Sir David Frost has died at the age of 74 after a suspected heart attack while on board a cruise ship.
A family statement said he had been giving a speech aboard the Queen Elizabeth on Saturday night.
Sir David's career spanned journalism, comedy writing and daytime television presenting, including The Frost Report.
Internationally, he will be remembered for his revealing interviews with former US President Richard Nixon.
A statement said: "His family are devastated and ask for privacy at this difficult time. A family funeral will be held in the near future and details of a memorial service will be announced in due course."
The BBC's Barney Jones, who edited his Breakfast with Frost programme on the BBC for more than 10 years, said: "David loved broadcasting, did it brilliantly for more than 50 years and was eagerly looking forward to a host of projects – including interviewing the prime minister next week – before his sudden and tragic death. We will all miss him enormously."
Prime Minister David Cameron said: "My heart goes out to David Frost's family. He could be – and certainly was with me – both a friend and a fearsome interviewer."
Hello, good evening….
Born in Kent, Sir David studied at Cambridge University where he became secretary of the Footlights club, and met future comedy greats such as Peter Cook, Graham Chapman and John Bird.
After university he went to work at ITV before he was asked to front the BBC programme That Was The Week That Was, which ran between 1962 and 1963.
Casting a satirical eye over the week's news, the show boasted scriptwriters including John Cleese, John Betjeman and Dennis Potter.
The Frost Report brought together John Cleese, Ronnie Barker and Ronnie Corbett in a sketch show which would influence many comedy writers including the Monty Python crew.
Sir David's often-mimicked catchphrase "hello, good evening and welcome" was by now in full use.
One of The Frost Report's most enduring pieces was the "class sketch", featuring Cleese, Barker and Corbett.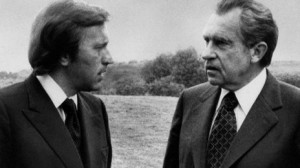 The Frost Programme for ITV followed, which saw Sir David move away from comedy into in-depth interviews with political figures, royalty and celebrities.
It was on this programme that he had a terse interview with then prime minister Margaret Thatcher over the sinking of the Argentine cruiser Belgrano during the Falklands conflict.
At the same time, Sir David began work on The David Frost Show in the US.
He later conducted a series of interviews with Mr Nixon, who had resigned the presidency two years earlier, in which the former president came close to apologising to the public for his role in the Watergate scandal.
Their exchanges were eventually made into a film – based on a play – which saw Michael Sheen portray Sir David Frost to Frank Langella's Nixon. Sir David himself appeared at the premiere of the film in 2008.
In the 1990s, Sir David presented Through the Keyhole, which he also produced, alongside Loyd Grossman.
The show saw Grossman take a tour round the home of a celebrity while a panel of guests tried to guess "who lives in a house like this".
Paying tribute to his friend on Sky News, Grossman said: "He dominated British broadcasting for 50 years.
"I have to say he was also an incredibly generous broadcaster to work with. I started working with him 30 years ago, in 1983, when I was completely inexperienced. He was always so helpful and kind and encouraging to me and to many others.
"He was a master of current events, incredibly incisive analyst and someone who is really irreplaceable. I can't think of any other broadcaster that can step into those very, very big shoes."
In 1993, the year he was knighted, he began presenting Breakfast with Frost – which had begun life on ITV – a Sunday show on BBC in which he interviewed newsworthy figures.
Sir David joined broadcaster Al-Jazeera in 2006 when it launched its English-speaking service.
He married his second wife, Lady Carina Fitzalan-Howard, in 1983 and they had three sons.
BBC