Jumblatt warns against sectarianism within security agencies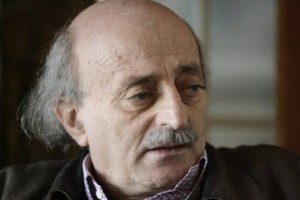 Progressive Socialist Party leader MP Walid Jumblatt warned against the rising sectarianism within Lebanese security agencies and called for the formation of a new national interest government.
In a speech delivered by former PSP Secretary General Sharif Fayyad on Sunday, Jumblatt rejected the attempts to divide the security agencies on Sectarian bases as " a hard blow administered to the last remaining bastions that protect the country."
The PSP leader also reiterated his support for the formation of a new national "interest government with universal participation, since the continuing political vacuum disrupts people's lives and work and undermines the effort to tackle the current crisis."
Jumblatt also reiterated his support for "the Syrian revolution" and for the Lebanese Armed Forces, and underlined the party's determination to remain loyal to its own principles and to highlight the need for dialogue.
The PSP canceled a ceremony set to commemorate the annual anniversary of the PSP martyrs in Aley after a blast that rocked Ruwais neighborhood of Hezbollah's stronghold in Beirut's southern suburbs on Thursday. The death toll from a car bombing has risen to at least 27 and 336 others wounded.
Reports emerged concerning threats received by Jumblatt after he backed the formation of a neutral government that didn't include the Shiite group Hezbollah. There were also reports that the Druze community received threats from Hezbollah. The party reportedly told the Druze community that the 2 largest Druze strongholds of Aley and Chouf are not larger than Qusair. In reference to the city that Hezbollah helped the Syrian regime regain control of from the Syrian rebels. Jumblatt was reportedly planning to use the ceremony to respond to the threats but changed his mind after the Ruwais explosion and the speech by Hezbollah chief Hassan Nasrallah .
In May 2008 Hezbollah tried but failed to occupy the Druze strongholds after it occupied the western part of Beirut.
While Jumblatt has been voicing his support to the Syrian rebels , Hezbollah has been sending its fighters to Syria to fight alongside the forces loyal to president Bashar al Assad against the rebels who are seeking to overthrow the 40 year old dictatorship.