Suleiman urges expanded investigation of Israeli incursion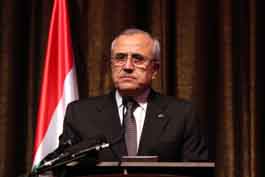 Lebanese President Michel Suleiman urged the army and UNIFIL leaderships on Thursday to expand the investigation into the infiltration of the Israeli patrol into southern Lebanon, The National News Agency reported
NNA also reported that Suleiman is looking to draft a detailed file on the Labouneh incursion which constituted "a new infringement of the UNSCR 1701 and a violation of Lebanese sovereignty."
NNA added that Suleiman intends to add the aforementioned incursion to the Lebanese complaint that is to be filed to the UN Security Council.
Four Israeli soldiers were injured Wednesday at dawn in a reported landmine blast after they entered into Lebanese territory near Labouneh, an area south of Naqoura, according to NNA.
Meanwhile, the Lebanese army issued a statement explaining that "an infantry patrol of the Israeli enemy penetrated 400 meters inside Lebanon in the Labouneh area at 00:24 local time… An explosion took place and the soldiers were wounded, with blood found at the scene."
Israeli security sources confirmed that four soldiers had been wounded. Israeli media reported that the troops belonged to an elite unit and that large forces deployed in the area following the blast.
Lebanese caretaker foreign minister Adnan Mansour condemned "Israel's infiltration of Lebanese territory" early Wednesday morning, describing it as a "blatant violation of Lebanese sovereignty and of UN resolution 1701", which ended the second Lebanese war in 2006.