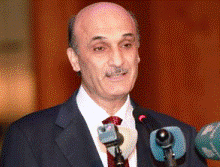 Lebanese Forces leader Samir Geagea accused the Iranian backed Hezbollah militant group of trying to prevent the election of a new president in Lebanon.
"Today, Hezbollah's goal is to prevent the formation of a new government and, if possible, prevent the presidential elections from taking place, " Geagea was quoted by his media office as saying to a delegation of LF expats on Thursday.
"Hezbollah is a state within the state and is undermining the efforts to create an effective and efficient state."
PM-designate Tammam Salam has been trying to form a cabinet based on giving an equal share to the opposing political blocks – March 14 , March 8 and the centrists, but the Hezbollah led March 8 alliance is insisting on having a bigger share in the cabinet to allow it to veto its decisions . Salam has been opposed to give any party a veto power ( usually referred to as a blocking third ) . He has recently been floating the idea of forming a neutral cabinet of technocrats, but Hezbollah has been opposed to this idea too and this is why Lebanon is still without a government and Najib Miqati is still acting as the caretaker Prime Minister.
Geagea's comments come after Hezbollah MP Kamel al-Rifai voiced his opposition earlier this week to the possible extension of the term of President Michel Suleiman, despite the fact that the president has on several occasions pointed out that he is not interested in extending his term.
"The possibility of a power vacuum in the presidency would pose a danger to Lebanon, especially in the current circumstances. However , the extension of President Michel Suleiman's term is so far rejected by all parties," Rifai told Al-Fajr radio station, without naming the parties he has in mind