Geagea: Lebanese are captives in Hezbollah's prison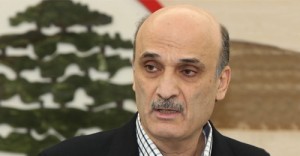 Lebanese Forces leader Samir Geagea said that millions of Lebanese citizens are being held captive in Hezbollah's prison since 1990.
"We are captives in Hezbollah's prison because our freedom and decisions are captive and the Lebanese people do not know when will Hezbollah tamper with their fate by making a momentous decision," Geagea said in a press conference he held on Friday at his residence in Maarab.
During a seminar at his residence on the Lebanese detainees in Syrian prisons, Geagea vowed that the LF will continue to search for the Lebanese detainees who "went missing" in Syrian prisons, but stressed that "there are millions of captives in Lebanon" accusing Hezbollah of putting the fate of the Lebanese people in danger.
"The detainees in the prisons of the Syrian regime were used for political ends and I ask everyone to be confident that we will carry on with our efforts to release them," Geagea said.
Geagea stressed that the fate of the 17,000 people who went missing during the civil war "has nothing to do with those who are in Syrian prisons," noting that the LF backs efforts to unveil the fate of the Lebanese who disappeared between 1975 and 1990.
"We will continue the search for our detainees in Syrian prisons," Geagea pledged adding: "It is shameful that some Lebanese leaders are saying that there are no Lebanese detainees left in Syrian prisons."
Turning to the issue of Lebanese detained by Hezbollah in Lebanon he said: There are "millions of captives in Lebanon and they are Lebanese captives who have been in Hezbollah's prison since 1990."
"Our freedom is captive , our decisions are captive and those who don't mention the resistance in their rhetoric would be harmed in some manner. The state would pay the price whenever it acts against Hezbollah, the thing that has led to subduing a large number of Lebanese," Geagea said.
"The majority of the Lebanese people cannot voice their free opinion because of Hezbollah and no one is asking about the killers of (Lebanese Option Party member) Hashem al-Salman although the pictures of his killers are available." Geagea added.
" 50 days after the martyrdom of Hashem al-Salman, no one has been arrested until the moment while the case of (slain Syrian pro-regime figure) Mr. Mohammed Darrar Jammo was solved in 48 hours," Geagea stressed.
"Today, the Lebanese do not know when exactly Hezbollah might take a decision that puts their fate in danger like it did on July 12 (2006) " , he added.
Geagea addressed Change and Reform bloc leader MP Michel Aoun, saying that both he and his allies are leading the country towards the abyss.
He also said that "Aoun has accused the Internal Security Forces of smuggling weapons in the past two years, but he is the biggest portfolios in the cabinet, so why is he telling us this?"is objecting to some proceedings.