Aoun: Europe is being controlled by Israel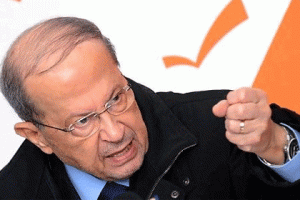 Free patriotic Movement leader MP Michel said Europe is being controlled by Israel and that the European Union's decision to blacklist Hezbollah's military wing was due to its "feeling of guilt" over what happened to the Jews and the Holocaust .
Aoun, a key ally of the Hezbollah militant group said that Europe is committing another mistake by adding the military wing of its ally to its list of terrorist organizations.
The EU's 28 foreign ministers reached the decision unanimously at their monthly meeting on Monday. Yesterday the decision to list Hezbollah as a terrorist organization became official. Lebanese FM Adnan Hassan Mansour who received the official notification from the EU circulated it today to Speaker Nabih Berri, Caretaker PM Najib Mikati, and president Michel Suleiman, according to local reports .
Aoun reiterated his refusal to the extension of the mandate of the Lebanese Armed Forces commander General Jean Kahwaji.
"We will challenge the decision to extend the mandate of the LAF commander before the Shura Council or the Constitutional Council if they are still functioning," Aoun said in a press conference he held on Friday at his Rabiyeh residence.
Aoun claimed that extending Kahwaji's term would be "overriding the Constitution and state institutions."
"The extension of Kahwaji's term is illegal and we have the right to challenge it." He stressed.
Kahwaji's term ends this September when he turns 60, but Several Lebanese politicians have voiced the need to extend his term. Aoun has been opposed to Kahwaji's term extension and proposed on June 30 appointing his son-in-law General Chamel Roukoz who is currently the commander of Lebanese Commando Regiment ( Maghaweer) as the new army chief. According to local media reports even Aoun's closest allies Hezbollah and Amal did not go along with his choice for army chief because they enjoy excellent relations with Kahwaji .