Nasrallah surprised it took so long to blacklist Hezbollah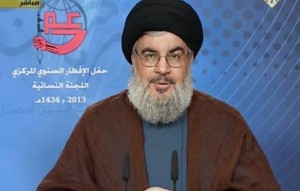 Hezbollah leader Hassan Nasrallah said on Wednesday that the party leaders were not surprised by the EU decision to blacklist the military wing of his party as a terrorist organization , on the contrary they were surprised it took the European Union so long.
" Hezbollah leaders we were not surprised with the [EU] decision. Rather we expected it and in fact found it odd it had taken so long." He said
Nasrallah made the comments on Al Manar TV via video link from an undisclosed location during the annual Iftar of the Women's Directorate of the Islamic Resistance Support Association at the Hashem Complex in the Lebanese capital.
Nasrallah also questioned why the EU had not blacklisted Israeli's "military wing," its army, as a terrorist organization, asking: "Those who kill, commit massacres, occupy land, and prevent an entire nation from returning to its territory, aren't they terrorists?"
"But those who fought, endured pain, died, and were imprisoned but were able to restore land, dignity and they still carry arms to fend off any aggressor, you [the EU] come to those and call them terrorists?" he said in reference to the resistance role of Hezbollah's military wing which was blacklisted
"The facts prove that the Israelis and the Americans exercised tremendous pressure on European Union countries to take such a decision," he said, adding that the blacklisting merely served the interests of the Jewish state.
Addressing the EU, Nasrallah said: "At Hezbollah, we know that any decision has a goal and the goal here is clear: it's to subjugate us and force us to retreat, regress, be hesitant, and instill fear in us."
"I tell you that you will only reap failure and disappointment," he added.
The EU's 28 member states unanimously agreed Monday to designate Hezbollah's military wing as a terrorist organization. The decision comes months after Bulgaria accused the Lebanese party of being behind the 2012 bombing in the city of Burgas. The bombing, which killed five Israeli tourists and their Bulgarian driver, also came at a time when a Cypriot court indicted a Lebanese-Swedish man affiliated with Hezbollah of plotting attacks against the Israeli tourists.
Hezbollah denied on several occasions any involvement in the Burgas bombing.
He accused the EU of providing "legal cover" for any future Israeli aggression against Lebanon.
"This is also something dangerous because these states … are providing legal cover for any aggression on Lebanon."
No government without Hezbollah
Nasrallah warned the March 14 coalition against using the EU's blacklisting of his party's military wing for political purposes and said the EU would be "complicit" in future Israeli attacks on Lebanon.
"I tell March 14, they won't be able to use this decision in internal Lebanese politics, if anyone from March 14 believes they have something to use… to isolate us… I say nothing has changed,"
"This decision will not change anything on the internal scene." He stressed.
Nasrallah ruled out the formation of a new government in Lebanon without the participation of his party.
"The EU decision domestically makes no [political] difference and I will say what I have said before: there will be no government without Hezbollah," he said, referring to the March 14 call for excluding the party in any future Cabinet.
EU Ambassador to Lebanon Angelina Eichhorst said Tuesday the EU decision would not affect ties with the Lebanese government even if Hezbollah is represented in the Cabinet, underlying that the Union differentiated between Hezbollah's political and military branches.
March 14 parties have accused Hezbollah of violating the Baabda declaration with its heavy involvement in Syria, where party fighters have joined forces loyal to President Bashar Assad in the battle against armed rebels seeking to topple the regime.
The Future Movement bloc urged Hezbollah o Tuesday to abide by the "Baabda Declaration." It reiterated its call on Hezbollah to withdraw all its fighters from Syria, hand over the four party members implicated in the 2005 assassination of former Prime Minister Rafik Hariri to the U.N.-backed Special Tribunal for Lebanon, and "halt all external security and military activities and involvements." A possible reference to Hezbollah's involvement in Bulgaria, Cyprus, Egypt, Bahrain, Azerbaijan , Argentina, etc..etc..
A number of March 14 politicians and commentators warned that a government cannot be formed with Hezbollah's presence ( specially after its designation as a a terrorsit entity) as Prime Minister-designate Tammam Salam looks to form a new cabinet amid a political deadlock in the country.
March 14 General Secretariat on Wednesday urged in a statement Hezbollah after its weekly meeting " to abandon its arrogant policy and return to the Lebanese fold in order to strike a historic settlement that calls for handing over its weapons to the Lebanese army."
It demanded that it withdraw its fighters from Syria "in return for the exerting efforts to form a government capable of continuing the construction of a state in Lebanon."
"By achieving these goals, Hezbollah would have fulfilled the conditions that ensure the rise of the Lebanese state as stipulated in the Taef Accord and constitution," added the March 14 General Secretariat statement.
"We are standing before a critical phase that can save Lebanon and we therefore call on Hezbollah to take advantage of this opportunity for the sake of the Lebanese people," the statement stressed.
No money in Europe or Lebanon
Nasrallah also ruled out any possibility Hezbollah would be affected at the financial or military levels.
"We don't have money in European banks. We don't even have in Lebanon since we can no longer do that because they [in Lebanon] fear the Americans," Nasrallah said.