Amal accuses Israel of killing the Syrian politician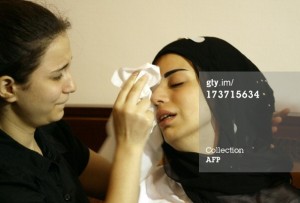 Amal Movement MP Hani Qobeissi on Wednesday accused Israel of being behind the killing of Syrian politian Mohammad Darrar Jammu.
"The cowardly assassination was carried out meticulously, which proves that Israel stands behind it to use South Lebanon as an arena for suspicious purposes," Qobeissi said in a press statement.
The MP also called on security forces to reveal and punish the perpetrators "to give a lesson to whoever plans to target the country's security and stability."
Jammu was assassinated by armed men in front of his home in southern Lebanon early Wednesday, his wife and witnesses said, in the first such killing on Lebanese soil.
Witnesses said the 44-year-old official was shot as he arrived at his home in Sarafand, southern Lebanon, at around 2:15 a.m.
Jammu, 48, a Syrian Kurd is considered a staunch ally of the Syrian regime of president Bashar al Assad and was a well known political commentator who often appeared on Hezbollah TV and radio broadcasts to defend the Syrian president.
Condemnation
The Shiite group said that the assassination raises alarm bells in Lebanon.
Hezbollah condemned on Wednesday the killing of Syrian official Mohammad Darrar Jammu and accused Syrian rebel groups of being behind it.
"The assassination of Jammu increases our conviction that the hand of crimes that is committing massacres in Syria does not differentiate between fighters at the front and those who fight with their words and stances," Hezbollah said in a statement
The Shiite group also said that the assassination "raises alarm bells in Lebanon, and prompts the search for the best way to face these terrorist groups before their danger exasperates, which would threaten the stability and security of Lebanon and the whole region."
It also called on security forces to take all measures to arrest and punish the terrorist perpetrators.
Syria's Sunni Muslim rebels have threatened to take the war across the border following the involvement of Lebanese Shiiite fighters from Hezbollah in Syria in support of Assad, a member of the Alawite sect that is a branch of Shiite Islam.
Like the Syrian regime , Hezbollah describes the rebels who are seeking to overthrow Assad as terrorists
Former PM and current Future Movement bloc leader MP Fouad Siniora on Wednesday condemned the killing of Jammu
"This act is a crime by all standards. Any assassination committed against any person, whether a Lebanese, Arab or foreigner is rejected," Siniora said in a press release.
Siniora also called for arresting and punishing the perpetrator.
"The killer must be revealed, held accountable and punished," Siniora's statement read.
The Future bloc leader also condemned the bomb that targeted a Syria-bound Hezbollah convoy in eastern Lebanon on Tuesday.
"One cannot speak in two languages and accept summer and winter under the same roof. We have suffered from assassinations due to difference in political views and we reject this manner, as well as the use of violence and weapons against civilians," Siniora said.
The roadside bomb blast that targeted a Syria-bound Hezbollah convoy on Tuesday killed one person, AFP reported.
Phot: Fatima (R), the daughter of Mohammad Darrar Jammu, head of the political and international relations division of the International Organisation for Arab Immigrants, is comforted by a relative as she mourns in Lebanon's southern village of Sarafand on July 17, 2013 following the assassination of her father. Jammu or Jamo was assassinated by armed men outside his home in south Lebanon, reports and an official said, in the first such killing on Lebanese soil. AFP PHOTO / MAHMOUD ZAYYAT (Photo credit should read MAHMOUD ZAYYAT/AFP/Getty Images)