A pro Assad Syrian politician assassinated in Lebanon, update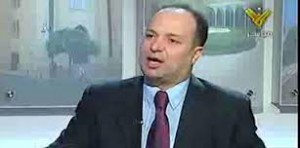 Syrian state television reported Wednesday morning the assassination of Syrian political analyst Mohammed Dhirar Jammu in front of his house in Sarafand, south Lebanon.
According to the report unknown assailants fired at Jammu and his bodyguards who were also wounded in the attack.
Jammu is considered a staunch ally of the Syrian regime of president Bashar al Assad and serves as head of the department of political and international relations at the International Association of expatriates.
The report did not indicate why Jammu lives in Lebanon and not Syria.
Update: Lebanese security sources said supporters of the Syrian rebel opposition were top suspects in the killing in a Shi'ite area of southern Lebanon, where security is normally very tight , according to a report by Reuters ,
Syria's Sunni Muslim rebels have threatened to take the war across the border following the involvement of Lebanese Shiiite fighters from Hezbollah in Syria in support of Assad, a member of the Alawite sect that is a branch of Shiite Islam.
Jammu's wife, who was with him during the attack but not harmed, said on Hezbollah TV Al Manar that officials from Syria's ruling Baath party had called her husband on Tuesday and warned him to be careful.
That call came on the day a Hezbollah security official was killed and two wounded when a convoy of vehicles heading to Syria from Lebanon was subjected to a bomb and gun ambush in Majdel Anjar , near the Masnaa border crossing between Lebanon and Syria.
Jammu, 48, a Syrian Kurd appeared regularly on Hezbollah TV and radio broadcasts. The attack in the Shiite town of Sarafand shows anti-Assad groups can hit targets far from Sunni areas where they have the most support.
A Syrian and 2 Lebanese were arrested for questioning over Jammu's assassination, according to a report by MTV