Nigeria Court Denies Bail To 3 Lebanese-Hezbollah Suspects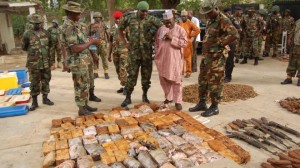 Three Lebanese businessmen standing trial for terrorism and illegal possession of arms have been denied bail by a Federal High Court in Abuja, Nigeria
Justice Adeniyi Ademola ruled that the prosecution had been established against Mustapha Fawaz, 49, Abdallah Thahini, 48, and Talal Ahmad Roda, 51.
He added that the medical report placed before the court by the defendants is not cogent enough to allow the court to exercise its discretion in their favor.
Justice Ademola also ruled that the exhibit of arms and ammunition presented by the prosecution said to be recovered from the defendants possession, is a serious national security concern for Nigeria and when national security is involved, the personal liberty of an individual must take a back seat.
On the issue of re-opening Amigo supermarket and Abuja Wonderland Amusement Park belonging to the Lebanese, Justice Ademola again cited national security reason and refused to make an order for the premises to be reopened as the prosecution had made a case that investigation are still ongoing and there is a likelihood of making more discoveries in the two premises.
As such he rejected the bail application and set trial to begin on the 29th of July 2013, while the defense was ordered to filed all its documents and serve all parties in the suit.
Meanwhile the accused persons are to remain in the custody of the Department of state Services.
channels tv
Photo: The above photo released by the Nigerian Army claims to show soldiers and civilians inspecting a displayed arms cache recovered from a house in Kano, Nigeria, Thursday, May 30, 2013. Nigeria's military and secret police say they've discovered an arms cache in the north's largest city they say belongs to members of the Lebanese political party and militant movement Hezbollah. Officials showed journalists the cache of weapons . The arms, later shown on the state-run Nigerian Television Authority, appeared to include badly corroded rocket-propelled grenades, land mines, hand grenades and assault rifle magazines. (AP Photo/Nigerian Army) (The Associated Press)