Egypt braces for violence over Morsi's ouster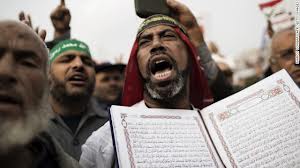 Egypt geared up for another day of protests Friday as the Muslim Brotherhood and supporters of former President Mohammed Morsi planned to take to the streets to resist the military's overthrow of the Islamist leader.
The calls for demonstrations come amid a widening crackdown on the Brotherhood, and as Reuters reported that Egypt's interim prime minister expressed the hope that a new government would be sworn in by the end of next week.
Numerous Brotherhood figures have been arrested over the past two weeks and arrest warrants have been issued for the movement's leader Mohammed Badie and nine other leading Islamist figures.
Authorities also shut down several Islamist television stations. Morsi is still being held incommunicado in an undisclosed location.
Morsi supporters have taken to the streets for over a week, vowing not to back down on calls that he return to the presidential post to which he was democratically elected. The Brotherhood says it is defending democracy against "military coup tyranny."
The struggle between the military and the Brotherhood escalated in the early hours of Monday morning when more than 50 people were killed. Security forces opened fire on pro-Morsi demonstrators outside a Republic Guard facility in Cairo's Nasr City.
The current unrest is rooted in protests against Morsi that began on June 30 when millions rallied across the country to demand that Morsi resign. Backed by popular support, Egypt's military on July 3 ushered in a plan for a new transition that suspended the country's constitution, dissolved the legislature and forced out Morsi.
Head of the High Constitutional Court Adly Mansour was sworn in as the interim president and this week Hazem El-Beblawi was named prime minister. Mansour issued a constitutional declaration that will serve as the country's ruling document until a new constitution is in place. Parliamentary and presidential elections are expected to take place by next spring.
But the Brotherhood has rejected the transition plan, saying the call for new elections is null and void and the new administration is illegitimate.
"We are refusing that anyone will touch or push out our elected president," said Karam Sharawy, 33, at a pro-Morsi rally earlier this week. "We already had an election. We already elected our president. Democracy means to elect someone and to give him his four years in government, then have another election."
But as calls to reinstate Morsi persist, Egypt's interim leaders are moving forward with the transition plan and are working to form a new cabinet. The country is deeply divided along social and political lines.
"You have two camps, and these two camps — anti-Morsi and pro-Morsi — cannot reach an agreement," said Khalil Al-Anani, an expert in Egyptian politics and Islamist movements.
Al-Anani said the Brotherhood is in a tricky position. The possibility that Morsi will be reinstated is unrealistic, but the Muslim Brotherhood cannot talk about engaging in the current political scene without affecting their image in the eyes of their supporters, he said.
"Part of their insistence for Morsi to come back is to maintain unity and solidarity of the movement," he said. "If this doesn't happen, many divisions could take place within the Muslim Brotherhood about who is responsible for this crisis and who should be held accountable."
Some opposition political groups are also planning for a mass gathering Friday. Egypt's Tamarod — or rebel — movement, which planned the mass protests against Morsi on June 30, is calling for Egyptians to break fast together in Tahrir Square at sunset in an effort to overcome political divides, local news media reported. Muslims fast during daylight hours during the Islamic holiday Ramadan and break their fast at dusk.
As political deadlock between opposing camps persists, the economy continues to severely suffer. Tourism and foreign investment are down and unemployment is rising.
USA today