Syria's FSA vows to wipe out the al Qaeda linked group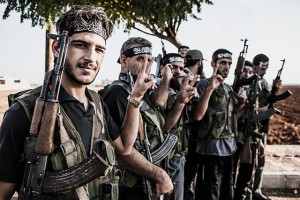 Syrian rebels said on Friday the assassination of one of their top commanders by al Qaeda-linked militants was tantamount to a declaration of war, opening a new front for the Western-backed fighters struggling against President Bashar al-Assad's forces.

Rivalries have been growing between the Free Syrian Army (FSA) and the Islamists, whose smaller but more effective forces control most of the rebel-held parts of northern Syria more than two years after pro-democracy protests became an uprising.
"We will not let them get away with it because they want to target us," a senior FSA commander said on condition of anonymity after members of the Islamic State of Iraq and Levant killed Kamal Hamami on Thursday.
"We are going to wipe the floor with them," he said.
Hamami, also known by his nom de guerre, Abu Bassir al-Ladkani, is one of the top 30 figures on the FSA's Supreme Military Command.
His killing highlights how the West's vision of a future, democratic Syria is unraveling.
Assad appeared close to defeat a year ago when rebels killed top officials in a bomb attack and pushed deep into Damascus. Now, with military and financial support from Russia and Iran, he has pushed the rebels back to the outskirts of the capital and put them on the defensive in the south while radical Islamists assert control over the north.
The FSA commander said the al Qaeda-linked militants had warned FSA rebels that there was "no place" for them where Hamami was killed in Latakia province, a northern rural region of Syria bordering Turkey where Islamist groups are powerful.
Other opposition sources said the killing followed a dispute between Hamami's forces and the Islamic State over control of a strategic checkpoint in Latakia and would lead to fighting.
VACUUM OF POWER
The two sides have previously fought together from time to time, but the Western and Arab-backed FSA, desperate for greater firepower, has recently tried to distance itself to allay U.S. fears any arms it might supply could reach al Qaeda.
Louay Mekdad, FSA Supreme Command Political Coordinator, said Abu Ayman al-Baghdadi, the Islamic State's Emir of the coastal region, personally shot dead Hamami and his brother at the roadblock.
He said a fighter who was travelling with them was set free to rely the message that the Islamic State considers the FSA heretics and that the Supreme Command is now an al Qaeda target.
"If these people came to defend the Syrian revolution and not help the Assad regime, then they have to hand over the killers," Mekdad said, adding that the bodies of the two men were still with the al Qaeda affiliate.
The FSA has been trying to build a logistics network and reinforce its presence across Syria as the U.S. administration considers sending weapons, in part to present a bulwark against units it considers "terrorist organizations."
But with funding from Gulf-based individuals, Islamist brigades have taken a leading role in rebel-held regions of Syria, filling the vacuum of power by setting up religious courts and governance bodies.
The FSA — a mixture of loosely-affiliated brigades — is accused by locals of looting and has not been able to present a unified front to sideline hardline units who favor an Islamic caliphate over pluralist democracy.
Some frustrated FSA fighters say they have joined Islamist groups and moderate and hardline fighters sometimes buy and sell weapons from each other.
The anti-Assad Syrian Observatory for Human Rights, which monitors the conflict, said the FSA and the Islamic State have had violent exchanges in several areas of Syria over the past few weeks, showing growing antagonism between Assad's foes.
"Last Friday, the Islamic State killed an FSA rebel in Idlib province and cut his head off. There have been attacks in many provinces," the Observatory's leader Rami Abdelrahman said.
Syria's conflict turned violent in the face of a crackdown on protests. Civil war ensued with disparate rebel groups taking up arms and the Observatory says more than 100,000 people have been killed.
U.S. congressional committees are holding up plans to arm the rebels because of fears that such deliveries will not be decisive and the arms might end up in the hands of Islamist militants.
Syria's opposition bemoans the delay, and repeated on Thursday assurances that the arms will not go to Islamist militants.
Reuters