Teresa Heinz Kerry taken to hospital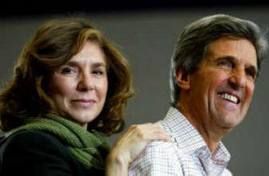 Teresa Heinz Kerry, wife of US Secretary of State John F. Kerry, is in critical but stable condition at Nantucket Cottage Hospital, a hospital spokesman said.
Heinz Kerry, 74, was stricken with an unspecified medical condition this afternoon while at the family's vacation home on the island, according to a person close to the family, who asked not to be named. Her husband was at the home at the time, the person said.
An ambulance was seen leaving the home on Hulbert Avenue at about 4 p.m., the person said.
Noah Brown, public information officer for Nantucket Cottage Hospital, said Heinz Kerry arrived at the hospital this afternoon but he could not disclose the nature of her illness.
"She was brought in, in critical but stable condition, and that is currently how … her condition still remains," Brown said shortly after 5:30 p.m. "At this point, we are determining the next phase of her care, be that either in our facility on the island, or on the mainland."
Brown was unable to say whether the secretary of state or other family members were at Heinz Kerry's side.
Heinz Kerry was diagnosed with breast cancer in September 2009 and underwent surgery and radiation treatments. She has publicly encouraged other women to get regular mammograms to help enable early detection of the disease.
Heinz Kerry is heir to the Heinz ketchup fortune and the widow of former US Senator H. John Heinz III.
No further information was immediately available.
Boston Globe