Egypt's Islamists call for 'intifada'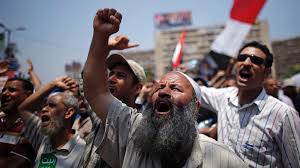 Pro- and anti-Morsi factions staged competing rallies in Cairo, with those who supported last week's military intervention attacking US President Barack Obama for his alleged support of the Muslim Brotherhood.
Mr Morsi's supporters marched on the defence ministry and the Republican Guard headquarters promising to free the former president from detention. But they failed to bring enough people on the streets to pose a threat either to the army or to the dominant anti-Morsi cause in the capital.
"We will continue our peaceful demonstrations," Ahmed Aref, the senior Brotherhood spokesman, told The Daily Telegraph. "We are the owners of a just cause. Legitimate rights do not disappear with time. We are facing an enforced disappearance of the legitimate president."
But there were more dramatic calls for resistance from militant groups.
Salafi Jihad issued a call to "intifada", a "clarion call for Islamic revolution".
"Anyone who knows an advocate or a sheikh or a revolutionary should call him to urge him to mobilise," a statement said.
There has already been an upsurge in militant violence since the generals ousted Mr Morsi, particularly in Sinai, long a hotbed of jihadist activity.
Intelligence reports have warned of a build-up of weapons, some stolen from Gaddafi arms stores in Libya, some headed for Gaza but held up by the block on smugglers' tunnels.
On Sunday there were reports that gunmen killed a soldier in Sinai. On Friday night, a group of Islamists seized the North Sinai governor's palace in the Mediterranean town of El Arish, raising the black Islamist flag. Earlier, jihadists attacked military checkpoints, a police station and El Arish airport. Five police and a soldier were killed.
On Saturday, gunmen killed a Coptic Christian priest, Father Mina Aboud Sharween, in El Arish, a sign of the sectarian tensions bubbling under the surface.
Brotherhood leaders and clerics had attacked Christians for joining anti-Morsi protests, and the decision by Pope Tawadros, leader of the Coptic church, to back Mr Morsi's removal has inflamed feelings further, even though he was joined by the Grand Imam of Al-Azhar University.
Mr Morsi has not been seen since Gen Abdulfattah al-Sisi, the defence minister, ordered his arrest on Wednesday. He is said to have been transferred to a military intelligence facility.
Crowds gathered on Sunday at the main Brotherhood encampment at Rabaa al-Adawiya mosque near the presidential palace to call for his release and reinstatement, but failed to match the numbers of Friday's protest.
They also seemed reduced to an Islamist core, with a greater preponderance of religious beards and robes.
In Tahrir Square, anti-Morsi crowds held up posters accusing Mr Obama of "supporting the terrorists of 9/11".
Anne Patterson, Mr Obama's ambassador in Egypt, had stressed Mr Morsi's right to govern as a duly elected leader. Mr Obama has indicated he has no intention of withdrawing aid from Egypt's military, but that has not lessened the anger at his supposed pro-Brotherhood stance.
Protesters invoked the memory of Gamal Abdul Nasser, Egypt's military strongman from the 1950s and 60s, who was known both for his persecution of the Brotherhood and his anti-American and anti-Israel rhetoric. Some protesters held up posters showing Nasser's photograph on one side and Gen Sisi's on the other.
Gen Sisi's chief of staff, Gen Sedky Sobhi, once wrote a dissertation arguing that American troops should be withdrawn from the Middle East, leading some to suggest that the new regime may be less amenable to American strategy than the Muslim Brotherhood proved to be.
But Hamdeen Sabbahy, the leading present-day Nasserist politician who is likely to be a strong candidate for the presidency, said altering Egypt's foreign and security policy would not be an immediate concern.
"The great mission is how to build Egypt, the economy and democracy, how to create social justice," he said. "That is a big burden, and means there is no way to invoke any more regional challenges."
The Telegraph