Bulgaria confirms Hezbollah was behind Burgas bombing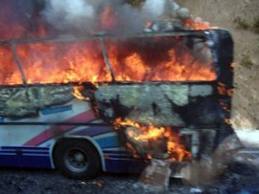 Tsvetlin Yovchev, the new interior minister of Bulgaria, said "further evidence had been added" to an investigation implicating Hezbollah in the July 2012 bus bombing in Burgas (Sarafovo) that killed five Israelis and their Bulgarian driver.
There has been "no change" in Bulgaria's view—as expressed by former interior minister Tsvetan Tsvetanov—that there is a "justified assumption" that Hezbollah was behind the Burgas bombing, Yovchev said July 4.
"There is no change in the Bulgarian position regarding the terrorist act in Sarafovo," Yovchev said. "I am familiar with all the facts and the investigation conclusions up to this moment. My expert opinion is that the assessment and the statement that followed are correct. I support them."
In June, Bulgarian Foreign Minister Kristian Vigenin appeared to backtrack from Bulgaria's investigation into the Burgas bombing that implicated Hezbollah, saying there was only an "indication" that Hezbollah was behind the attack. But Vigenin went on to clarify his remarks, telling Bulgaria's Standart newspaper that Bulgaria had "not reconsidered its stand on Hezbollah" from the initial investigation.
American Jewish Committee Executive Director David Harris in a July 7 statement said Bulgaria, a European Union (EU) member state, "has delivered another strong and forthright indictment" of Hezbollah. Harris called on the rest of the EU to "take meaningful action to label Hezbollah a terrorist organization when they meet on July 22, and end the group's current ability to fundraise and recruit in Europe."
JNS