Abbas: Palestinians in Refugee Camps Don't Need Arms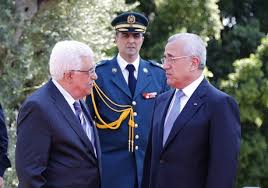 Palestinian President Mahmoud Abbas stressed on Thursday that Palestinians living in refugee camps in Lebanon are the guests of Lebanon and do not need arms because the Lebanese government and the people of Lebanon protect them.
"We are in no need of weapons because we are protected by the Lebanese government and people."
"We are temporary guests in Lebanon and we hope that we may soon return to our homeland," he added.
"We must abide by Lebanon's laws as long as we are its guests," Abbas stressed.
He added : "The Palestinian Authority does not meddle in the affairs of Arab countries, including those of Lebanon."
He made his comments after holding talks at the Grand Serail with caretaker Prime Minister Najib Miqati.
"We are open to whatever Lebanese decision is taken to control the arms in the Palestinian refugee camps," Abbas stressed.
Mikati hailed Abbas' position and said he is hoping that the Palestinians would respect the Palestinian Authority's decision that they refrain from interfering in Lebanese internal affairs.
"Lebanon is suffering from the burden of Syrian and Palestinian refugee … and we hope that the Palestinian refugees would not take sides in the crisis in the neighboring country," Mikati said.
Following his meetig with Mikati, Abbas headed to Ain el-Tineh where he held talks with Speaker Nabih Berri.
He reiterated after the meeting his respect for the all decisions taken by official Lebanese authorities over the Palestinian refugees.
"In Lebanon, we are most concerned with the country's stability and security," Abbas said .
The Palestinian president arrived in Lebanon on Wednesday on a three-day visit where he is set to meet with a number of senior officials.
His first meeting was with President Michel Suleiman at the Baabda Palace.
The Lebanese army cannot enter Palestinian Refugee camps , because under the so called the Cairo agreement the camps were removed from the jurisdiction of the Lebanese army and placed under the authority of the Palestinian Armed Struggle Command. The Cairo agreement or Cairo accord was an agreement reached on 2 November 1969 during talks between Yassir Arafat and the Lebanese army commander General Emile Bustani.
Reports circulated last week that the radical Salafist Sheikh Ahmad Al Assir fled to Ain El Helweh Palestinian Refugee camp, near Sidon where the clashes between Assir supporters and the lebanese army took place about 10 days ago.