Rifi accuses Hezbollah of particiapting in Sidon clashes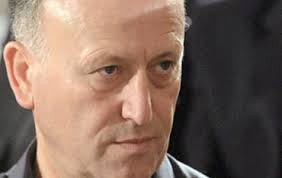 Former Internal Security Forces chief General Ashraf Rifi accused Hezbollah of particiapting in the clashes between the Lebanese army and militants affiliated with radical Sunni cleric Ahmad al-Assir in Sidon.
"Eyewitnesses have spotted artillery and rocket launchers [belonging to Hezbollah] as well as military checkpoints for Hezbollah members inside the city," Rifi told Future TV .
Clashes erupted early Sunday afternoon in the southern city of Sidon when supporters of Sunni cleric attacked the Lebanese army reportedly following the LAF's arrest of the cleric's bodyguard Fadi Beirouti and his brother-in-law.
On Monday, troops seized control of Assir's headquarters after his supporters battled the army for two days, resulting in the death of 17 soldiers.
Rifi also accused Hezbollah, Syria and Marada Movement leader Suleiman Franjieh of providing weapons to militants in the Tripoli neighborhood of Jabal Mohsen.
"Hezbollah is providing Jabal Moshen with weapons, and when needed, Franjieh is doing it too," Rifi said.
He also said that the Syrian regime was sending weapons to Jabal Mohsen through Franjieh.
"Weapons are being sent from Syria to Zghorta [where Franjieh's residence is located], and then to Jabal Moshen," he said.
"We did not remain silent over Franjieh providing weapons to Jabal Mohsen and we referred the case to the judiciary."
Rifi also denied accusations against the ISF's Information Branch of distributing weapons to militants in Tripoli.
"The ISF and the Information Branch did not give a single bullet [to any militant]. Any sort of weapons or bullets that are bought or used by the ISF is subject to the rule of law," he said.
The former ISF commander also accused some "wealthy figures in Tripoli" of financing the purchase of weapons by militants in Tripoli.
"There are some people in the city who buy weapons, and there might be some wealthy figures who finance [the purchase], [mistakenly] thinking that they would be defending the city," Rifi said.
Jabal Mohsen residents have frequently clashed with locals from neighboring areas in the troubled northern city of Tripoli. These recurrent disputes are triggered by sectarian differences, which also reflect a split in Lebanon's political scene in which the March 14 coalition backs the revolt in Syria while the March 8 alliance, led by Hezbollah, supports the Damascus regime.
Rifi also commended the stances of Lebanese President Michel Suleiman, "who broke many barriers of fear and took stances that serve the country's sovereignty."
The former ISF leader also said that Syria was the one that initiated filing a complaint before the UN against Lebanon.
Two weeks ago, Suleiman summoned UN Special Coordinator for Lebanon Derek Plumbly and handed him a memorandum complaining about violations committed by Syrian rival parties.
The memorandum complained of "violations and aggressions committed against Lebanese territory by all the fighting parties in Syria."
Rifi also brought up the issue of former Information Minister Michel Samaha, who was arrested last year for smuggling weapons into Lebanon in a bid to foment terrorism.
"We confiscated 24 explosives in Samaha's car, 4 of which were intended for Akkar, and the other 20 were similar to those that targeted journalist May Chidiac, late journalist Samir Kassir and late activist George Hawi," Rifi said.
Investigators have said that explosives were found in Samaha's car when he was arrested at his home on August 9, 2012. A former information minister, the Christian politician is known for having close ties to the Damascus regime.
NOW