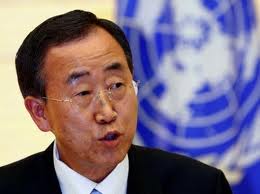 UN Secretary-General Ban Ki-moon late Thursday said the lack of progress in delineating the border between Lebanon and Syria should not be an excuse for seriously violating the Lebanese territory, warning that the implications of the latest developments in Lebanon and the region are serious.
"Further lack of progress in delineating and demarcating the borders is no justification for such serious violations of Lebanese territorial integrity," Ban told the Council in his written periodic report on his assessment of the implementation of resolution 1701 that put an end to the Israel-Hezbollah war in the summer of 2006.
"The impact of the conflict in Syria on the security and stability of Lebanon is more and more apparent I am deeply concerned by the marked increase in incidents across the Lebanese-Syrian border," he said.
"I deplore these incidents and I call upon the Government of the Syrian Arab Republic and all those fighting in Syria to cease violations of the border and to respect the sovereignty and territorial integrity of Lebanon," he added.
He also noted with "deep concern" the involvement of Lebanese citizens in the fighting in Syria, including Hezbollah's acknowledged participation in and commitment to such fighting.
He cited as examples the threats by external actors to bring their fight to Lebanon in response to Hezbollah's involvement, and the calls from inside Lebanon to engage in Jihad in Syria.
"The implications of these developments for Lebanon's stability, and indeed for that of the region, are serious," he warned, urging all concerned parties in Lebanon to "step back" from their involvement in the conflict in Syria.
On the oil and gas exploration opportunities in the eastern Mediterranean, Ban said they remain "significant interests" of both Lebanon and Israel.
He noted that the launch of the offshore oil and gas concession period by Lebanon on May 2nd was a "significant step towards the country's eventual ability to reap the benefits of its natural resources.
In this regard, he encouraged both countries to "continue their efforts to address the delimitation of their respective maritime exclusive economic zones and the exploration and exploitation of their natural resources in a manner that does not give rise to tensions." On resolution 1701, he said "major obligations under the resolution remain outstanding and require action by both parties" – Israel and Lebanon.
KUNA
This error message is only visible to WordPress admins
Error: No connected account.
Please go to the Instagram Feed settings page to connect an account.