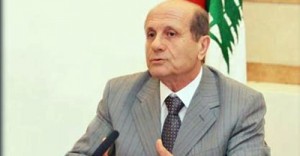 During the ceremony that marked the change of leadership at the Internal Security Forces (ISF) Caretaker Interior Minister Marwan Charbel vowed on Thursday to hold accountable all corrupt ISF members, warning both corruption and sectarian divisions would lead to the collapse of the state.
In the cermony Brig. Gen. Ibrahim Basbous was handed over the helm of ISF by acting head Gen. Roger Salem.
"Corruption will be fought only through accountability," Charbel said
"There would be no state without accountability," the caretaker Minister told reporters.
"All officers fall under the leadership of the ISF command … in which I have full trust," he said, vowing the ultimate punishment against corrupt ISF members who fail to carry out their tasks.
Charbel warned that the country would be destroyed if the ISF or the armed forces become divided along sectarian lines the same way the Lebanese are.
He reiterated that the police would be more active "when we get rid of the unjust political interference in our affairs."
Basbous said during the ceremony that police were "determined to carry out their mission with the support of the army."
"The ISF will be at an equal distance from all citizens who should in their turn have faith" in it, he said.
Charbel's comments come after Human Rights Watch said in a report released yesterday that Lebanese Internal Security Forces threaten, ill-treat, and torture drug users, sex workers, and lesbian, gay, bisexual, and transgender (LGBT) people in their custody . The HRW report was released on the United Nations International Day in Support of Victims of Torture.
"Abuse is common in Lebanon's police stations, but it is even worse for people like drug users or sex workers," said Nadim Houry, deputy Middle East director at Human Rights Watch. "The abuse of prisoners, especially the most vulnerable people in society, isn't going to stop until Lebanon ends the culture of impunity in its police force."
One of the victims was quoted as saying in the report:
"They took me to interrogation naked, poured cold water on me, tied me to a desk with a chain, and hung me in thefarrouj position [A torture technique in which the victim is suspended by the feet with hands tied together to an iron bar passed under the knees]. They broke all my teeth and nose, and hit me with a gun until my shoulder was dislocated."
This error message is only visible to WordPress admins
Error: No connected account.
Please go to the Instagram Feed settings page to connect an account.