Army to probe abuse of Assir supporter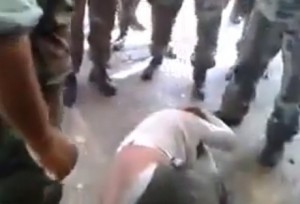 The  Lebanese army will investigate alleged abuse by its troops against a  supporter of  the radical Salafist cleric Ahmed al-Asir, whose men fought the army  in  the Abra area of the southern city of Sidon, a military source said Thursday.
The decision on the probe comes after an amateur video emerged showing several troops kicking and humiliating a suspect after tying his hands behind his back during his interrogation.
Asir 45  remains  at large. 17  troops were killed in the Abra clash.
"The commander in chief of the armed forces General Jean Kahwaji has ordered a major investigation" into the abuse incident, a military source told AFP on Thursday.
"Those guilty, whatever their rank may be, will be punished because these are acts that go against the ethics of the army."
In the video the man was heard saying that he worked in al-Assir's mosque, but that he has no weapons and had nothing to do with the fighting.
"I have no weapons… I don't like him (al-Assir), may God curse him," said the man.
"Liar!" said one of the soldiers that abused him.
The video shows one man in civilian clothing hitting the suspect.
There were reports that the civilian was one of the Hezbollah member or Amal members that helped the army during its clash with Assir followers , but both Amal and Hezbollah denied any role in the fighting.