Fadl Shaker claims killing 2 Lebanese soldiers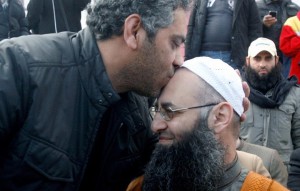 Fadl Shaker," a prominent Lebanese singer who abandoned his career to join Sheikh Ahmad Assir's ultraconservative group admitted that he had killed two army soldiers and injured four others.
In a video published by the Asia News local website, Shaker boasted about what he called "a victory."
"We killed two of your carcasses [sic], you dogs, you pigs… two carcasses and four injured pigs ," Shaker said.
He also voiced his happiness over the growing number of Lebanese army casualties.
NOW
Photo: Fadl Shaker kisses the head of Sheikh Ahmad al-Assir during a Salafist demonstration in 2012