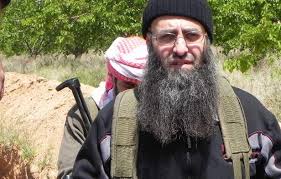 The political advisor of the Free Syrian Army (FSA) , Sheikh Bassam al-Dada, claimed on Monday that radical Sunni cleric Ahmad al-Assir has fled to Syria and is now under the protection of the Syrian rebels.
"Sheikh Ahmad al-Assir is now under the protection of the FSA and is inside Syria," Dada told LBC television.
Dada called on Lebanese Armed Forces commander General Jean Kahwaji to resign, "because he proved to be a sectarian man after he raided the Bilal Bin Rabbah Mosque."
He also accused the Lebanese army of being sectarian, and called on all the Lebanese politicians to stand by Ahmad al-Assir.
He also said that Lebanon was under the occupation of Iran.
Dada refused to reveal how Assir got to Syria and predicted that Assir will form " The Free Lebanese Army"
Dada considered that " the formation of such an army, is a natural right to Assir given that Lebanon is occupied by Hezbollah."
Lebanese army commandos seized Monday the Mosque complex belonging to militant Islamist Sheikh Ahmad Al-Assir in the southern coastal city of Sidon, in the second day of clashes between the military and gunmen loyal to the militant preacher that have claimed the lives of at least 17 soldiers and more than 25 gunmen.
Earlier today Lebanese Forces leader Samir Geagea said in an interview that the "phenomenon" of Sunni cleric Assir was a reaction to Hezbollah's activities in Lebanon, calling on all Lebanese to support the army and state.
"The phenomenon of Hezbollah produced several other phenomenons, including that of Assir." It is not about [the proliferation of] weapons, but rather mini-states leading to more mini-states," Geagea said.
"Assir is a big problem, but Hezbollah is the one that is taking [Lebanon] as hostage."
Update: Dada rvealed that FSA offered Assir 100 fighters to help him during his clashes but he turned down the offer. He added " What happened in Sidon will have far greater implications than Hezbollah can ever imagine".
Update: The Free Syrian Army command issued a statement in which it said: "Bassam al-Dada does not carry any official status in the Free Syrian Army and all what he claims expresses only his personal opinion."
Update: The Free Syrian Army coordinater Louay al Mikdad declared that FSA has absolutely nothing to do with Sheikh Assir  and denied Dada's earlier satement .
Unconfirmed reports indicated that Assir fled to ain El Helweh Palestinian  refugee camp near Sidon