Nelson Mandela is now in critical condition, report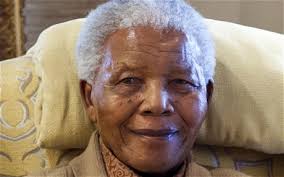 Nelson Mandela was in critical condition Sunday after a deterioration in his health, and doctors "are doing everything possible" for him, South Africa's government said.
The office of President Jacob Zuma said that on Sunday evening the president had visited Mandela, the former president of the country who was imprisoned for nearly three decades as he battled the country's apartheid system of racial separatism.
Zuma's office said he was informed by Mandela's doctors that his condition had become critical in the past 24 hours.
Mandela, 94, has been in intensive care for more than two weeks. He was hospitalized on June 8 for what the government said was a recurring lung infection.
"The doctors are doing everything possible to get his condition to improve and are ensuring that Madiba is well-looked after and is comfortable," Zuma said in a statement. "He is in good hands."
Madiba is Mandela's tribal nickname.
Zuma visited Mandela along with ANC Deputy President Cyril Ramaphosa visited Mandela. Zuma also met Graca Machel, Mandela's wife, at the hospital and discussed the former leader's condition, according to the statement.
Zuma appealed to South Africans and the rest of the world to pray for Mandela, his family and his medical team. Mandela turns 95 on July 18.
On Saturday, it was reported that the ambulance carrying Mandela to the hospital June 8 broke down while he was on board, requiring that he be moved to a second vehicle. Zuma said he had been assured "all care was taken to ensure his medical condition was not compromised."
"There were seven doctors in the convoy who were in full control of the situation throughout the period. He had expert medical care. The fully equipped military ICU ambulance had a full complement of specialist medical staff including intensive care specialists and ICU nurses. The doctors also dismissed the media reports that Madiba suffered cardiac arrest. There is no truth at all in that report," Zuma said in a statement released by spokesman Mac Maharaj.
Mandela became South Africa's first black president after the end of apartheid in 1994. He retired from public life in 2004 and has rarely been seen at official events since. He has been seen around the world as a leader of the movement for human rights and reconciliation.
The Associated Press