AL to receive Lebanon's complaint over Syria violations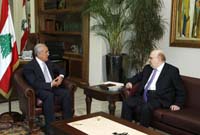 Lebanese Ambassador Abdel Rahman Al-Solh was handed by President Michel Suleiman the memorandum on Syrian violations which is to be handed to Arab League chief Nabil al-Arabi.
According to the National News Agency, Suleiman handed Solh the memorandum on Thursday "hoping that all sides will be compelled to respect Lebanon's sovereignty and the sanctity of its borders."
The president's move caomes two days after he summoned UN Special Coordinator for Lebanon Derek Plumbly and handed him the memorandum.
The memorandum complained of "the violations and aggressions committed against the Lebanese territory by all the fighting parties in Syria."
Suleiman's complaint comes amid repeated shelling by Syrian regime forces on Lebanon's Beqaa Valley region targeting the majority Sunni town of Arsal.
Also, a series of rocket barrages conducted by Syrian rebels have hit Hermel and areas near Baalbek in recent weeks.
Charbel: No one can threaten Suleiman
Lebanese caretaker Interior Minister Marwan Charbel refuted the accusations against President Michel Suleiman for the memorandum forwarded to the UN and Arab League regarding Syrian violations of the country's sovereignty.
"No one can threaten the president, the prime minister or the speaker of parliament," Charbel said on Thursday ahead of the Central Security Council meeting.
"At the end of his mandate, he will not be a punching-bag for anyone."
Charbel's remarks came as a wave of criticism hit the president following the memorandum he penned to complain of "the violations and aggressions committed against the Lebanese territory by all the fighting parties in Syria."
Baath Party MP Assem Qanso on Wednesday accused President Suleiman of high treason and called for his prosecution after the latter filed a memorandum of complaint to the UN concerning Syrian violations of Lebanese sovereignty.
"We will work, according to the constitution and laws, on prosecuting the president for high treason," the MP, a a staunch ally of the Syrian regime, said.
"By referring back to the Lebanese Constitution we can conclude that this violation of the constitution could be considered high treason, since the president is responsible for preserving the common ties between the Lebanese and not sowing the seeds of discord between them."
Mansour bypassed
Suleiman reportedly contacted the UN mission directly and dealt with the Arab League through Lebanese amabasador Solh because foreign minister Adnana Mansour refused to file a complaint with the UN and Arab League because he reportedly believes that existing agreements between Lebanon and Syria prevent Lebanon from taking such steps because the agreements consider Syria a sister state, according to a report by Al Hayat newspaper
Mansour, a member of the Amal Movement, a close ally of the Hezbollah militant group which is fighting in Syria alongside the Syrian regime has resisited in the past filing any complaints against the Syrian regime.