EU Stalemate Continues Over Blacklisting Hezbollah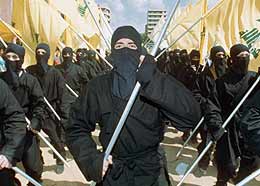 European Union member states failed to reach agreement Wednesday on whether to blacklist the military wing of the Lebanese shi'ite group Hezbollah, meaning it's very likely EU foreign ministers will be able to sign up to the measure when they gather next week, according to two officials.
In the second meeting of a special committee for member state officials to discuss the issue, the U.K. push to add Hezbollah to the EU's terror group again failed to win unanimous approval. France, Germany and the Netherlands are all backing the initiative.
At a first meeting in early June, around six countries were said to be opposing the push, including Ireland, Finland and Austria, while a large group of member states were said to be undecided. All 27 member states would need to back the decision for Hezbollah to be added.
The U.K. last month formally announced it wanted the EU to blacklist Hezbollah's military wing over its alleged ties to the bus bombing in Burgas, Bulgaria, last July that killed five Israelis and a local bus driver.
While the U.K. has said its initiative is based around evidence from the bus bombing, Hezbollah's political links with some EU capitals have frayed in recent months as the group stepped up its military support for the regime of President Bashar al-Assad in neighboring Syria.
Bulgaria presented a preliminary report linking Hezbollah to the Burgas bombing in February. A month later, a Cypriot court convicted a 24-year-old member of Hezbollah of charges he plotted terror attacks against Jews.
The U.S. and Israel have long called for the EU to label Hezbollah a terrorist group.
The U.K. had hoped to seal an agreement on the Hezbollah blacklisting this month. EU foreign ministers meet on Monday and will almost certainly now leave the EU's terror list unchanged. The list is automatically reviewed every six months.
Still discussions are expected to continue in coming weeks. If member states agree at some stage to list the group, the change could be made without calling together foreign ministers.
WSJ