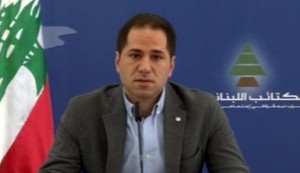 Phalange Party bloc MP Sami Gemayel on Monday said that Hezbollah was governing Lebanon and imposing its policy by the force of its weapons.
"Hezbollah is ruling the country, taking decisions and imposing a de facto situation by the force of its weapons," Gemayel said following the Phalange Party's weekly meeting.
Gemayel also said that Hezbollah's engagement in the war in Syria "is not in its interest and is harming the Lebanese people."
Gemayel also called on Prime Minister-designate Tammam Salam to form the cabinet as soon as possible because "some parties do not want the state [to prevail], and are planning to empty its institutions."
He also called on President Michel Suleiman to "benefit from the power vacuum and impose his authority on the political life in Lebanon."
Lebanon is still awaiting the formation of a new government by Salam after the resignation of the government of caretaker PM Najib Mikati.
Hundreds of Hezbollah fighters have reportedly been killed while fighting against the rebels in support of the Syrian regime of president Bashar al Assad.