Jordanian orphan dies after setting himself ablaze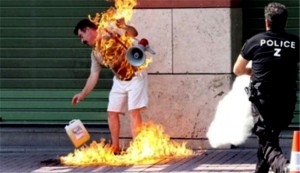 The doctor of a Jordanian man who set himself on fire to draw attention to his plight as an orphan says he has died of his burns.
Ahmad Robin, 23, set himself ablaze last week after Social Development Minister Reem Abu-Hassan refused to meet him.
His friend, Alaa Tibi, says Robin wanted Abu-Hassan to remove a state code used to identify orphans from his national identification card, saying it was discriminatory and prevented him from finding a job. The code allows orphans access to welfare and other benefits.
He said Robin also wanted state housing, health insurance and an increase in his monthly welfare paycheck from 100 Jordanian dinars ($142).
Dr. Isam Shraydeh, head of Bashir state hospital, said Robin died Wednesday from burns over 90 percent of his body.
Washington Post/AP