Turkish PM: protests 'will be over in 24 hours'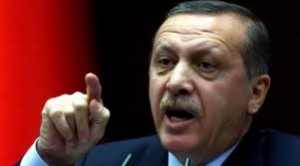 Turkish premier Recep Tayyip Erdogan has predicted an immediate end to protests that have shocked the country for two weeks – as demonstrators prepare themselves for a new clash with police< "I have given orders to the interior minister," Mr Erdogan said on Wednesday afternoon after a meeting with Turkey's shopkeepers' union. "This will be over in 24 hours."
The prime minister spoke as protesters prepared to gather again in Istanbul's Taksim Square, the centre of the demonstrations, a day after thousands were driven out in fierce clashes with riot police using tear gas and water cannons.
Two demonstrators and one policeman have died during 12 days of protests. Turkey's Human Rights Foundation said Istanbul prosecutors had launched an investigation into allegations of excessive use of police force during the protests.
The Taksim Solidarity Group, which says it represents protesters, urged people to return to the square from 7pm. The group repeated demands including the preservation of a park adjoining the square, the dismissal of governors and police chiefs in cities where demonstrators have been attacked and the release of those arrested during the rallies.
Mr Erdogan hosted talks with a small group of activists, including an actress and a singer, who were described as representing the protesters, on Wednesday afternoon, in an attempt to start a dialogue.
However, many of the protesters said they had no connection with Mr Erdogan's interlocutors and others declined to attend the meeting after this week's police intervention. Taksim Solidarity said it had not been invited, and no such meeting would help while police were using violence.
Mr Erdogan has defended police action and warned that he had no tolerance for the protests which he depicted as involving looters and vandals trying to damage Turkey's economy.
The country's president Abdullah Gul, who is seen as being more conciliatory than Mr Erdogan, appealed for calm earlier on Wednesday and said the government was prepared to listen to peaceful protesters but would not tolerate violent demonstrations.
"I am hopeful that we will surmount this through democratic maturity," Mr Gul told reporters. "If they have objections, we need to hear them, enter into a dialogue. It is our duty to lend them an ear," he said, adding: "Those who employ violence are something different and we have to distinguish them."
The police action drew criticism from European leaders. Guido Westerwelle, German foreign minister, described pictures from Taksim square as "disturbing".
Mr Westerwelle said: "We expect Prime Minister Erdogan to de-escalate the situation, in the spirit of European values, and to seek a constructive exchange and peaceful dialogue."
EU foreign policy chief Lady Ashton said excessive use of force by the police against peaceful demonstrators must be swiftly investigated and expressed alarm at Turkish attempts to restrict social media.
"Democratically elected governments – even the most successful of them, which have enjoyed three election victories and have half the population's support – still need to take account of the needs and expectations of those who don't feel represented" Lady Ashton said. "And peaceful demonstrations are a legitimate way for such groups to express their views."
Clashes between protesters and Turkish police continued well into the early hours of Wednesday after police stormed Taksim twice the previous day, using tear gas and water cannon to scatter thousands of mostly peaceful protesters.
Although government officials had given assurances that they were not targeting the hundreds of protesters camped out in neighbouring Gezi Park – the green space at the heart of the original demonstrations – police fired tear gas into the park itself during the night. Clashes also took place in Ankara, the capital, and elsewhere in Turkey.
More than 2,000 people were injured, according to the Turkish Medical Association.
The US, a key ally of Turkey, has expressed concern about the police operation in Taksim and urged dialogue between the protesters and the government.
However, Turkey's broadcasting watchdog has imposed fines on four opposition television channels that had shown footage of the protests – images that more mainstream networks had declined to show.
At least 50 lawyers demonstrating in favour of the protesters were also hauled out of Istanbul's largest courthouse and briefly detained.
Can Yeginsu, a barrister active in the UK and Turkey, said arresting those obliged with upholding the rule of law in Turkey, with disproportionate force, did not send the right signal at home or abroad. He said the detentions were a dangerous continuation of polarisation politics".
The protests continued to affect the country's cost of borrowing. Yields on two-year benchmark bonds dropped 2 basis points to 6.8 per cent, retreating from a seven-month high. The lira extended gains after the central bank tightened liquidity on Tuesday to protect the currency, adding 0.8 percent to 1.875 per dollar.
Central bank governor Erdem Basci said outflows from Turkish markets since the beginning of May were about $8bn – a third of which he attributed to the unrest and the remainder caused by global factors.
Financial Times