South Africa's Mandela back to Hospital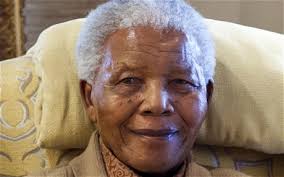 Former South African President Nelson Mandela was taken to a hospital Saturday to be treated for a recurrence of a lung infection and is in "serious but stable" condition, the president's office said.
The anti-apartheid leader, who is 94, has received hospital treatment several times in recent months. His health has been failing in recent years.
"During the past few days, former President Nelson Mandela has had a recurrence of lung infection," said the statement from the office of President Jacob Zuma. "This morning at about 1.30a.m., his condition deteriorated and he was transferred to a Pretoria hospital."
It said Mandela was receiving expert medical care and "doctors are doing everything possible to make him better and comfortable."
Zuma wished Mandela a quick recovery on behalf of the government and the nation and requested that the media and the public respect the privacy of the former leader and his family, the statement said.
Mandela's forgiving spirit and belief in racial reconciliation helped hold South Africa together at a time of extreme tension in the run up to elections in 1994. The Nobel Peace Prize laureate, who was imprisoned for 27 years by the racist white regime, became the first democratically elected president of South Africa in that year.
ABC/AP