March 14 MPs question Hezbollah's loyalty to Lebanon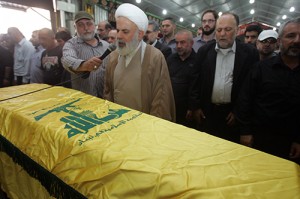 March 14 coalition lawmakers blasted the Iranian backed Shiite movement Hezbollah for fighting alongside the Syrian regime in the Syrian civil war Syria and questioned its loyalty to Lebanon.
March 14 MP Marwan Hamadeh told Future TV on Saturday that Hezbollah had lost all allegiance to Lebanon.
"We have counted on its [allegiance] to Lebanon and we discovered months ago that it had lost it and became totally loyal to Iran." He added
The lawmaker also lashed out at caretaker Foreign Affairs Minister Adnan Mansour, who had defended Hezbollah's stance on the crisis in Syria, saying that he had become "loyal to [Hezbollah] and not to the [Lebanese] state."
Lebanese Forces bloc MP Antoine Zahra, a key member of March 14 said in an interview with Voice of Lebanon (100.5) radio that the Shiite movement was "an Iranian tool that doesn't care about the Lebanese state."
He also said that it should be sidelined in the formation process of the new cabinet.
"Since the party is an Iranian tool taking part in a regional war, it cannot be included in a neutral government."
The Shiite party Hezbollah is a close ally of the Damascus regime, and its fighters have been battling alongside the army in the Al-Qusayr area for months, according to activists.
A growing number of Hezbollah fighters killed in Syria have been brought back for burial in Lebanon in recent months.
The group's leader Sayyed Hassan Nasrallah has acknowledged that members of his movement are involved in the Syria conflict.
The Syrian rebels vowed to make Syria the graveyard of the Hezbollah militant group
The Syrian conflict has so far left more than 94,000 people dead, according to the Syrian Observatory for Human Rights watchdog.