Russia suggests missiles have yet to reach Assad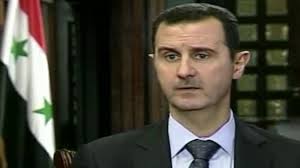 Syrian President Bashar al-Assad said on Thursday Moscow was still committed to sending him advanced anti-aircraft weapons, although a source close to the Russian defence ministry said the missiles had yet to arrive.
The prospect of the missiles arriving is a serious worry for Western and regional countries opposing Assad which have called on Moscow not to send them.
The S-300 missiles would make it far more dangerous for Western countries to impose any future no-fly zone over Syrian air space, and could even be used to shoot down aircraft deep over the air space of neighbours like Israel or Turkey.
The two-year-old civil war, which has killed more than 80,000 people, has reached one of its bloodiest phases with a counter-offensive by Assad's forces, backed openly by allies from neighbouring Lebanon's Hezbollah Shi'ite militia.
Syrian rebels under siege in Qusair near the Lebanese border pleaded for help on Thursday, warning that the strategic town they are struggling to hold faced total destruction.
With Iran and Hezbollah rallying to Assad's defence and his Western-backed Syrian opponents mired in squabbles, the president sounded confident of his position.
Speaking to Hezbollah's al-Manar television, he said he would attend talks in Geneva convened by Washington and Moscow, but expected to keep fighting.
By taking part in peace talks, Syria would effectively be negotiating with its international foes who back the opposition, he said: "When we negotiate with the slave we are actually negotiating with the master."
Russia, which has supported Assad's family since the Cold War, says it will send the S-300 missiles in part to help prevent the West from imposing a no-fly zone. A source close to the Defence Ministry in Moscow said the "hardware itself" had not yet arrived, although the contract was being implemented.
A Lebanese newspaper earlier quoted Assad as saying in his al-Manar interview that Moscow had already sent a first shipment of missiles, although when the actual interview was broadcast Assad appeared to stop short of saying the missiles had arrived.
"Everything we have agreed on with Russia will take place, and part of it has already taken place," he said, without giving further details.
SURROUNDED
Rebels in the besieged border town of Qusair warned that it could be wiped off the map and hundreds of their wounded might die if no help came soon.
"The town is surrounded and there's no way to bring in medical aid," Malek Ammar, an opposition activist in the town, told Reuters over an Internet link, adding that about 100 of the 700 wounded needed bottled oxygen to keep breathing.
"What we need them to do," he said of other rebel units, "is come to the outskirts of the city and attack the checkpoints so we can get routes in and out of the city".
U.S., Russian and U.N. officials will meet on June 5 to make arrangements for a peace conference, known as "Geneva 2" after a first conference last year in the Swiss city, which produced an international agreement to set up a "transitional government" but no agreement on whether Assad would remain a part of it.
If the latest U.S. initiative aims to win over Moscow to the position that Assad must leave power, it seems to have failed.
Moscow spoke out on Thursday against the Syrian opposition's insistence on Assad's removal as a precondition for talks and criticised Washington for refusing to rule out imposing a no-fly zone to help the rebels.
NEW INITIATIVE
Washington has been pushing for the new diplomatic initiative, driven by worsening reports of atrocities committed by both sides, by allegations that chemical weapons have been used and by the emergence of al Qaeda allies among the rebels, raising worries that the West could be helping its own enemies.
An exchange of fire across the Turkish border on Thursday was a reminder that all Syria's neighbours risk being sucked in to a regional conflict.
Turkish police arrested 12 suspected terrorists in raids. Turkish media reported they were suspected members of the al Nusra front, a Syrian rebel force that has pledged allegiance to al Qaeda.
Inside Syria, rebels at Qusair and comrades encircled near Damascus face shortages of weapons. Fears of the Islamists in the rebel ranks have deterred Western powers from supplying them, despite wanting to see Assad fall.
The result, after two years of fighting and more than 80,000 deaths, has been an increasingly sectarian stalemate in which Assad has lost control of swathes of territory but remains in power. Taking back Qusair would secure the government's access to the coastline populated by Assad's minority fellow Alawites.
For the rebels, mostly drawn from the Sunni Muslim majority, Qusair secures supply lines from sympathisers in Lebanon and from further afield, notably Sunni-ruled states in the Gulf.
Rebel commanders at Qusair warned of dire consequences if help fails to arrive for men who have been fighting house to house for more than a week against a force armed with tanks and spearheaded by seasoned Lebanese fighters from Hezbollah.
"If all rebel fronts do not move to stop this crime being led by Hezbollah and Assad's traitorous army of dogs … we will soon be saying that there was once a city called Qusair," the commanders said in a statement.
Shells were landing by the minute and the attackers seemed to be advancing more quickly after seizing a nearby air base.
DIVISIONS
Assad has benefitted from divisions among his foes, split between fighters inside Syria and exiles abroad, Islamists and liberals. Exiled members of the main opposition umbrella group, the Syrian National Coalition, have spent a week arguing in Istanbul over how to present a common front at the Geneva talks.
Islamist and liberal wings of the opposition sought a compromise by offering liberals more seats on the body intended to form a transitional government. Groups fighting inside Syria demanded that they be granted half the seats.
Russian Foreign Minister Sergei Lavrov said the Coalition seemed to be "doing everything they can to prevent a political process from starting … and achieve military intervention".
"We consider such approaches unacceptable," he said, referring to rebel pleas for Western weapons which persuaded Britain and France this week to end an EU arms embargo.
His ministry also chided Washington for keeping open the possibility of a no-fly zone. That, it said, "cast doubt on the sincerity of the desire of some of our … partners for success in international efforts" to end the war.
Reuters