12 more Syrian rockets land in Lebanon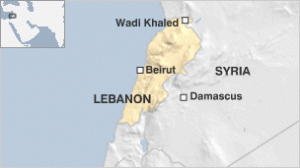 12 rockets crashed at dawn from the Syrian side in the outskirts of of Wadi Khaled region in northern Lebanon, LBC reported on Friday.
No injuries were reported.
On Tuesday, another 4 rockets crashed in the town of Hermel, destroying one home and injuring three people.
One of the rockets hit a residential neighborhood in the center of the town while the other crashed near the hills facing the town, National News Agency reported.
The incident comes one day after Lebanese citizen Loulou Awad (17) was killed when a rocket crashed into her home.
In recent months, the Bekaa Valley has become a target for both the Syrian rebels and the Syrian army.
Officially, Lebanon is abiding by the policy of dissociation in regards to the conflict taking place in Syria, but Hezbollah fighters have been actively helping the Syrian regime of president Bachar Assad in its crackdown against the rebels.
Syria repeatedly has been claiming that rebels and weapons are being smuggled into Syria from Lebanon, while rebels accuse Hezbollah of invading Syria.