33-year-old Michigan woman killed in Syria, report
The family of a 33-year-old Michigan woman says the FBI confirmed Thursday that she was killed in fighting in Syria.
She was identified as Nicole Lynn Mansfield of Flint.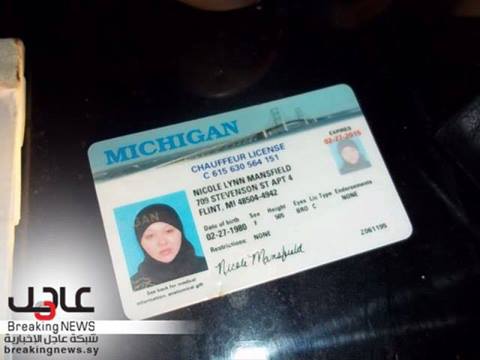 Her cousin, David Speelman of Flint, told The Associated Press that FBI agents visited family members Thursday and informed them of Mansfield's death.
FBI Detroit spokesman Simon Shaykhet told the AP he can't comment on the matter.
A pro-Syrian government news agency said that Mansfield and two others were fighters for a group opposed to Syria's government and were killed in a confrontation in Idlib. The report on the circumstances of the deaths could not immediately be confirmed.
Speelman's mother, Monica Mansfield Speelman, told the Detroit Free Press that her niece was a convert to Islam who married an Arab immigrant several years ago but later divorced him. The family was not happy about Mansfield's conversion to Islam, said Monica Speelman and Mansfield's grandmother, Carole Mansfield.
Nicole Mansfield was raised as a Baptist and her father was a General Motors production worker, the family said. She quit high school after becoming pregnant but later earned her GED, attended community college and worked in home health care for 10 years, they said.
HP