Huge fire erupts in Sidon's landfill "trash mountain"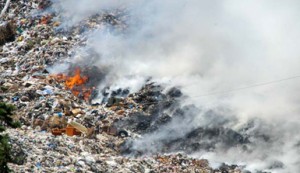 A huge fire erupted on Thursday at Sidon's garbage dump, causing black smoke in the skies of the city, LBC reported on Thursday .
LBC quoted its source at the Civil Defense as saying that the fire is "massive", and said that it trapped a Civil Defense team  member on top of the landfill who was rescued shortly afterwards.
The Civil Defense is struggling to extinguish the fire, the report added
Sidon's garbage dump is located near the sea and poses a threat to the health and safety of Sidon's residents. Residents call it a "trash mountain". The mountain has grown steadily for more than 30 years.
Last October an agreement was signed between the Ministry of Environment and the United Nations Development Program (UNDP) to turn the garbage mountain into a green park, but judging from the report the garbage is still there.