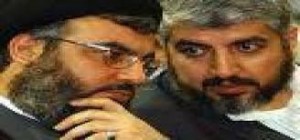 Lebanese Hezbollah militant group has ordered its former ally the Palestinian Islamist group Hamas out of Lebanon effective immediately and within hours , the Middle East Online news agency reported on Thursday.
The move, the report says, is due to Hamas support for the opposition forces fighting to oust Syrian President Bashar Assad. Both Hezbollah and Syria are allies of Iran, which provides the two with financial and military support.
Hamas representative in Lebanon Ali Baraka denied the report to Lebanese paper Aliwaa, saying Hezbollah officials in Lebanon were surprised by the report.
But media sources close to the Palestinian national liberation movement Fatah in Lebanon said a Hezbollah senior security official informed Baraka, that all of those related to Hamas on the Lebanese territory have become unwelcome.
Times of London reported last month that Hamas' military unit has broken ties with Assad, and has begun training members of the opposition's Free Syrian Army in Damascus.
Hamas leader Khaled Mashaal was basing himself in Damascus, but in 2012 Mashaal relocated to Qatar, citing the ongoing conflict in Syria, which is now entering its third year. The London-based Arabic language newspaper Asharq Al-Awsat said at the time that the move was due to Hamas' support for the Syrian opposition. There were also reports at the time that all senior Hamas operatives in Syria had quietly relocated to various other Arab states, including Egypt and Jordan.
Earlier this year Syrian state-run media accused Mashaal of being "ungrateful and treacherous."
According to media reports as far as Meshaal is concerned, the underlying logic is simple: His movement's new patron and funder, the Qatari Emir Hamad bin Khalifa al Thani, is a vocal opponent of Assad's regime.