Hezbollah named "enemy of Arabs and Muslims", poll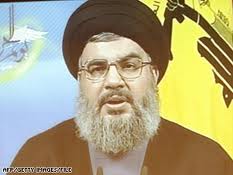 Over two-thirds of participants in a four-day online survey that ended Tuesday believe that the Iranian backed Hezbollah militant group is the new enemy of Arabs and Muslims.
The one-question survey by Aljazeera.net asked: "Do you think Hezbollah has turned out to be an enemy of Arabs and Muslims?"
A total of 453,943 respondents (or 72.8%) said yes, compared to 169,605 (or 27.2%) who said no.
Almost half of the respondents (49.18%) were from Saudi Arabia. The others were from Lebanon, Kuwait, Bahrain, Egypt, Iraq, Qatar, Oman, Yemen, Turkey, Jordan, the UAE, Palestine, Morocco, the UK, Germany, France, the U.S., Canada and Australia.
The survey that closed Tuesday got underway last Saturday, when Hezbollah chief Hassan Nasrallah, whose militiamen are openly fighting alongside Syrian President Bashar al-Assad's army, told supporters Assad's war "is ours, and I promise you victory."
In his televised weekend address to Hezbollah loyalists in Mashghara, Nasrallah said his party would not let Assad fall to the U.S., Israel and the (Sunni) Takfiris.
He said, "Syria is the linchpin and backbone of the Resistance" and his party "cannot stand, arms folded, while its back is broken."
To underscore the Syrian regime's appreciation for Hezbollah support , Assad's office says he is set to give an interview to Hezbollah's al-Manar TV channel on Thursday.
The interview would be broadcast simultaneously on Syria's official television channels at 9 p.m. local time (18:00 GMT), the president's office announced on its Facebook page.
Today, member states of the UN Human Rights Council will consider a resolution condemning the presence of foreign combatants in Qusayr, as fighting over the strategic town in Homs province intensifies.
France revealed on Wednesday its intelligence services believed 3-4,000 guerillas from Lebanon's Hezbollah militia fighting alongside President Bashar Assad's army in Syria's civil war.
"As far as Hezbollah militants present in the battlefield, the figures range from 3,000 to 10,000, our estimates are between 3,000 and 4,000," Foreign Minister Laurent Fabius told lawmakers.
The United Nations' human rights chief Navi Pillay said on Wednesday a dramatic increase in the role of Iran-backed Hezbollah militants backing Syrian government forces was inflaming regional tensions, without giving numbers.
Lebanese President Michel Suleiman called on Hezbollah's leader to withdraw his fighters from Syria in order not to further implicate Lebanon in the ongoing violence raging in the neighboring country.
"We do not want the Resistance involved in the Golan [Heights] or [the rest of] Syria," Suleiman told Future TV in an interview on Wednesday.
I hope that Hezbollah Secretary General Sayyed Hassan Nasrallah would… bring the Resistance back to Lebanon because it is not [meant] for Syria," the president added.
"The army-people-resistance equation should prevent Hezbollah from getting involved in Syria's war. The resistance should go back to being protected by the state." He stressed