FPM is set to appeal extension of the parliament's mandate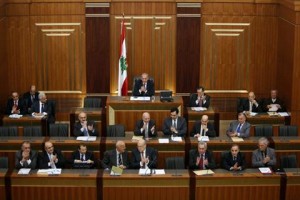 Change and Reform bloc MP Ibrahim Kanaan revealed   on Thursday that the Free Patriotic Movement  which is headed by MP Michel Aoun is set to appeal the extension of the parliament's mandate, LBC reported on Thursday.
In a statement to LBCI, MP Kanaan pointed out that the appeal will be submitted  as soon as  the parliament approves the extension.
On Wednesday, Speaker Nabih Berri said that the parliament's mandate will be extended until the 20th of November 2014, a move that will be officially voted upon in a session  on Friday.
President Michel Suleiman  said that he will challenge the extension of the parliament's mandate before the Constitutional Council should the elections not be held on their constitutional due date.
Caretaker Energy Minister Bassil , also a member of FPM told  MTV Thursday evening : "It is possible to stop the parliament's extension through filing a challenge and through the president's constitutional powers if he is serious in this regard.
Several MPs expected around 105 to  110 lawmakers to vote for the extension if they all attended Friday's session although the  duration  of the extension is still the source of controversy between different parliamentary blocs.
Rival parties have failed to agree on an electoral law to govern the June 16 parliamentary elections and the majority of them opposed the 1960 law that was used in the 2009 polls.
The extension of the 1parliaments 's term by up to 18 months marks the first time that parliament has had to extend its term since Lebanon's civil war  from 1975-90 ended .
Parliament's current term ends June 20.