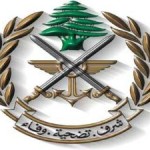 Two men were arrested on Thursday for suspicion of being involved in an assault against a Lebanese Army checkpoint in Arsal, LBCI reported on Thursday.
Three Lebanese soldiers were killed Tuesday May 28th by unknown assailants who escaped across the border into Syria, according to Lebanese media reports.
The soldiers who were killed in Arsal area were identified as: Ali Monzer, Mustafa Hayek and Mohamad Sharaf Eddine, and were taken to Beirut's military hospital.
The Lebanese Army according to the report had set up a security cordon on Wednesday night around Farhat Hospital in Jeb Jennin, following reports stating that an injured Free Syrian Army fighter is being treated there is suspected of being involved in the attack.
Later the army removed the cordon after the investigations revealed that the injured FSA mmeber has been at the hospital for one week, before the incident.
President Michel Sleiman visited the area and the scene of the crime yesterday where he reiterated his support for the institution calling on it to "strike with an iron fist" all those who perpetrate attacks against the military.
The report did not reveal the identity of the 2 men arrested in connection with the crime .
Update: LBCI reported that the black Hummer suspected of being used in the Arsal attack was rented by a Syrian man through two people who hail from Tripoli.
Update 2: A third man was arrested on charges of being involved in the attack, LBC reported Thursday evening