Saudi envoy warns against transfer of Syria conflict to Lebanon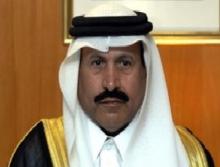 Saudi Arabia's Ambassador to Lebanon Ali Awad Assiri warned Lebanon against involvement in the troubles of its neighbor Syria.
In an interview published by Al-Hayat newspaper on Wednesday, Assiri said that "not abiding by the policy of disassociation voiced by the Lebanese government regarding the Syrian events was likely to transfer the war from Syria to Lebanon."
"The Syrian regime might spread chaos in several areas across Lebanon to divert attention from what is happening in Syria," Asiri said
He also underscored his country's determination to support Lebanon to implement its disassociation policy and remain neutral in the face of the increasing instability in Syria.
Asked about the tourism season in Lebanon, the Saudi envoy said that it is linked to the security situation and stability in the country.
"The developments in Syria have a negative impact on Lebanon," Asiri stressed.
Free Syrian Army ( FSA) leader Gen. Salim Idriss gave a 24-hour ultimatum to Lebanese President Michel Suleiman, Arab League Secretary General Nabil al-Araby, and United Nations Secretary General Ban Ki-moon to get Hezbollah to withdraw its fighters from Syria, Voice of Lebanon Radio reported on Tuesday.
Hezbollah chief Sayyed Hassan Nasrallah on Saturday vowed that his party and the Syrian regime would emerge victorious in the fighting in Syria.
At least 79 members of Hezbollah have been killed fighting alongside the Syrian army in the town of Qusayr since last week, a watchdog said on Monday.
"The number of Lebanese Hezbollah fighters killed in recent months in the outskirts of Damascus and Homs has risen to 141," the Syrian Observatory for Human Rights said in a statement.
The Lebanese parties are sharply divided over the crisis in Syria as the Hezbollah-led March 8 alliance continuously expresses its support to Syrian president Bashar Assad, while the March 14 camp voices its support for the popular revolt.
The Syria conflict flared when forces loyal to Assad launched a brutal crackdown on Arab Spring-inspired democracy protests that erupted in March 2011.
The Syrian Observatory for Human Rights, a Britain-based watchdog, says more than 80,000 people have since been killed, with numerous incidents of mass killings and other atrocities.