US demands Hezbollah withdrawal from Syria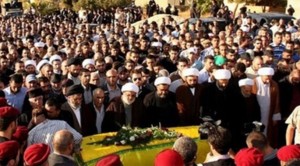 The United States on Wednesday demanded the immediate withdrawal of Lebanese Hezbollah fighters from Syria, saying their active role in combat there was an "extremely dangerous escalation."
"This is an unacceptable and extremely dangerous escalation. We demand that Hezbollah withdraw its fighters from Syria immediately," State Department spokeswoman Jen Psaki said.
Hezbollah leader Hassan Nasrallah confirmed last week that the Lebanese Shiite movement was actively fighting on the side of its close ally, Syria's President Bashar al-Assad, in the Syrian town of Qusayr near the border.
Psaki also condemned the "outrageous attack" on a Lebanese army checkpoint near the border on Tuesday that killed three soldiers.
It was not immediately clear who was behind the attack, which was condemned by the Lebanese government and Hezbollah.
"These and other incidents are stark reminders that the conflict in Syria poses an incredibly dangerous threat to Lebanon's stability, the people of Lebanon and security," she said.
"We call on all parties to do their part to act with restraint and respect Lebanon's stability and security."
Hezbollah, which battled Israeli forces for nearly two decades before their 2000 withdrawal from Lebanon, had long insisted its arsenal of rockets and other weapons would only be used to defend Lebanon from its southern neighbor.
But Nasrallah has said the group must now defend Assad's regime against an uprising increasingly dominated by hardline Sunni Islamists who view Shiites and Assad's offshoot Alawite sect as apostates.
Hezbollah's involvement in Syria has raised fears the conflict could spill over into Lebanon, where deadly clashes between supporters and opponents of the Syrian regime have periodically erupted in the northern city of Tripoli.
Syria has long been a crucial conduit for arms supplied to Hezbollah by its chief patron Iran. Iran, Syria, Hezbollah and some Palestinian groups view themselves as an axis of "resistance" against Israel and the West.
Hezbollah is believed to have sent at least 1,700 fighters to Qusayr more than a week ago to support the regime's assault on the rebel stronghold. France estimates that 3,000 to 4,000 Hezbollah fighters are operating in Syria.
Hundreds of civilians have reportedly been killed in Qusayr and thousands could be trapped. The United Nations estimates that more than 70,000 people have been killed since the initially peaceful uprising began in March 2011.
AFP